Go WILD with The Wildlife Trusts
This June, join hundreds of thousands of people taking part in 30 Days Wild. We're challenging you to do something a little bit wild every day: that's 30 Days of fun, exciting and simple Random Acts of Wildness. It's easy!
We're giving you a free pack of goodies to help you plan your wild month, plus lots of ideas from your Wildlife Trust to inspire you to stay wild all throughout June (and beyond!).
What's in your pack?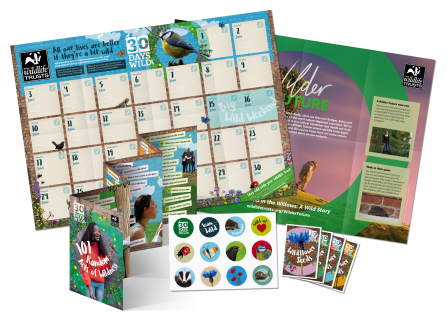 When you sign up, you'll receive a pack full of wild goodies! You'll get a wallchart, with a calendar (to help you plan your month) and an awesome poster! You'll also get a booklet packed full of ideas to help you go wild, a set of super stickers, and some wildflower seeds to brighten up your garden or window box!
Why take part?
It's not just wildlife that 30 Days Wild helps; you'll feel the benefits, too! We're all a part of nature, and nature needs to be a part of our lives.
Over the past four years, we've been working with the University of Derby to find out about the impact that 30 Days Wild has on people taking part. Spending time outdoors can make you feel happier, healthier and closer to nature, as well as helping people to take more actions to help wildlife.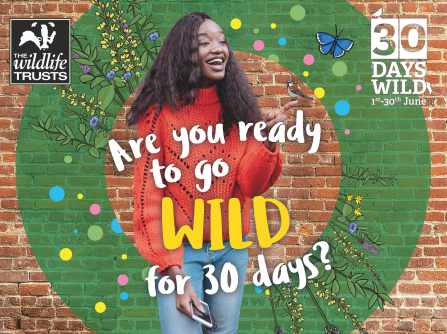 Who are the Wildlife Trusts?
No matter where you are in the UK, your Wildlife Trust is protecting and standing up for wildlife and wild places in your area. We connect local people to nature on their doorsteps; restore diverse wild places and look after thousands of nature reserves for future generations; and inspire people to take action for wildlife. We believe that everyone can make a positive difference to their local environment and that by working together we can achieve nature's recovery on land and at sea.

Bring a bit of nature to your news feed
Get your daily dose of nature across your social accounts all year round. Follow us to keep up to date with wildlife news, to find events and things to do near you, and to get inspired to Stay Wild.
Find out how WILD we've been