Badger edge vaccination scheme
254 badgers vaccinated so far
Badger Edge Vaccination Scheme
We are continuing to tackle bovine tuberculosis (bTB) with the vital Badger Edge Vaccination Scheme (BEVS) in the Vale of Belvoir. We started the work back in 2015 and have so far vaccinated a total of 254 badgers.
However, our progress is at risk. 
The UK Government has made an announcement of new areas for badger culling which started in September 2020.
Devastated but not defeated!
We are devastated. Nationally as many as 70,000 will be shot in autumn 2020. They will be trapped and shot or shot in the open. Thousands will suffer. This is a shameful tragedy.
Over 15,000 people called out the bogus science, protested the inhumanity of slaughtering a protected species and told their MP loud and clear 'NO badger cull in my county'. Sadly, the Government has ploughed ahead and our voices have been ignored.
But we cannot stand by and allow this to happen!
Right now (September 2020) we are trying to establish precisely which parts of Leicestershire will be affected by the cull to assess the likely impact on our badger vaccination work. This is being made difficult as we cannot yet access the maps showing the cull locations – yet another example of us being denied access to vital information. Once we are clear on the locations we will be working to get as many farmers in our project area back into our vaccination programme for next year.
BEVS continues
DEFRA committed to 4 years of support up until 2022 to part-fund badger vaccination programmes across England including our scheme here on the Nottinghamshire/Leicestershire border. This is only part-funding and does not cover all our costs. This is why we also need your help.
We can keep some of our costs down thanks to the efforts of over 20 incredibly dedicated volunteers but we need the support from people like you to ensure that we can continue this crucial work.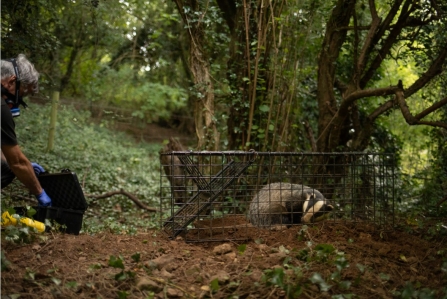 Find out more about bTB, badgers, vaccinations and the cull
What is bovine tuberculosis (bTB)?

Bovine tuberculosis (bTB) is a highly infectious disease in cattle which devastates thousands of farming businesses annually. It is caused by a bacterium which can also cause TB in badgers, deer, goats, pigs, llamas and a wide range of other mammals.

Since the mid-1980s, the number of cattle that have tested positive for bTB has increased substantially. Infected cattle must be culled which is not only distressing but creates an economic burden on the farming industry and the taxpayer. As owners of cattle ourselves, Nottinghamshire Wildlife Trust are conscious of the hardship and distress that bTB can cause to the farming community and agree that action needs to be taken to stop the spread of this disease.

Government research shows that bTB is not a major cause of death in badgers. Generally, infected badgers do not show any sign of infection and can survive for many years before eventually suffering from severe emaciation.
How does bTB spread?

The disease may be transmitted between animals through saliva, urine and faecal excretions on grass, soil and in water.

Cattle-to-cattle transmission remains the primary cause of outbreaks of bTB in cattle. Badgers also suffer from TB and are able to transmit the disease to cattle however 94% of bovine TB in cattle is estimated to come from other herds. Controlling cattle-to-cattle transmission is likely to have a much bigger impact than controlling badger-to-cattle transmission.
Why are you vaccinating badgers?

As owners of cattle ourselves for conservation grazing purposes, we are very conscious of the hardship that bovine TB causes in the farming community and the need to find the right mechanisms to control the disease.

However, we believe that a badger cull is not the answer. This is a cattle problem, not a badger problem. The control of bTB in cattle should be the main focus of everyone's efforts to control this disease. The evidence shows that badgers are not the primary cause of the spread of TB in cattle, cattle-to-cattle contact is.

Efforts to control bTB need to shift away from badgers, however the vaccination of badgers has an important role to play. Badger vaccination has the potential to reduce badger-to-cattle transmission by lowering the occurrence of infection on the badger population.

Badger vaccination involves adult badgers and cubs being humanely trapped and vaccinated by trained and licensed people. Vaccination does not remove infected badgers, but it does reduce their ability to infect other badgers, (which will also be protected by the vaccine). Over time, the infected animals will eventually die off, and the prevalence of infection will be expected to decline.
How effective is badger vaccination?

In a clinical trial, the vaccine reduced the risk of vaccinated badgers testing positive for progressed infection by 76% and reduced the risk of testing positive to any of the available live tests of infection by 54%. The trial also found that when more than a third of the badger social group was vaccinated it even protected unvaccinated cubs – their risk of infection reduced by 79%.

Badger vaccination alone is not the solution to bTB, but it does have an immediate positive effect with no known associated negative impact on badgers or cattle.
Why is there not currently a cattle vaccine?

Vaccination of cattle against bTB is currently prohibited by EU legislation, principally because BCG vaccination (which stands for Bacillus Calmette-Guérin - that's the TB vaccine) of cattle can interfere with the tuberculin skin test which is the recognised primary diagnostic test for TB in cattle.

A test called a DIVA test could help resolve this issue. The Animal Health and Veterinary Laboratories Agency is developing a test to differentiate infected from vaccinated animals. This test would be used alongside tuberculin skin test to confirm whether a skin test positive result is caused by vaccination or TB infection.

Cattle vaccination offers the best long-term way to reduce bTB in the cattle population. A sustained vaccination programme would be required with annual re-vaccination.
What happens if you vaccinate a badger that already has TB?

There is no negative impact if a badger which already has bTB is vaccinated, in fact research shows that vaccinating already infected badgers slows the progression of the disease and reduces the likelihood of it being passed on to cubs.

Badgers typically live for 3-5 years so over a 4-year vaccination programme, this should reduce new cases of bTB in badgers and infected animals will gradually die off.
Surely you can't vaccinate every single badger?

The aim of our vaccination scheme isn't to vaccinate every badger in Nottinghamshire/Leicestershire, we are focussing our efforts in the Vale of Belvoir. Like our neighbours in Derbyshire we are considered an 'edge' territory in terms of the spread of bovine TB. We are targeting vaccinations here to prevent the spread of the disease from the worst hit areas in the South West and West Midlands to the low-risk areas towards the east.

The Vale of Belvoir is a very important dairy and beef farming area and we believe it is essential to prevent bTB from spreading here from areas with a high infection risk. By working with farmers to vaccinate badgers on their land we can help to build herd immunity in the badgers, contain this devastating disease and keep charismatic badgers in our wonderful landscape.
Why are badgers being culled in the UK?

Badgers are being culled as part of a Government initiative to reduce the spread of bovine tuberculosis in cattle. Pilot badger culls commenced in Gloucester and Somerset in 2013 amid much opposition.

As of 2019 there are now 32 cull zones across England and more have been announced in September 2020.

"83% of badgers culled in government trials 2002-2005 tested TB free." Final Report of the Independent Scientific Group on Cattle TB, June 2007

The Wildlife Trusts firmly believe that culling badgers is not the answer to the fight against bTB.  A study found that only 1 in 20 cases of bTB herd infections are transmitted directly from badgers.  The scientific evidence demonstrates that culling is likely to be ineffective in fighting the disease and, worse still, risks making the problem even worse.
I have contacted my MP to stop the cull. What else can I do?

Thank you for contacting your MP. Many people have had a standard response, others nothing at all. 

If you are unhappy with your MP's response, write to them directly or request a virtual surgery. You can find your MPs contact details here. If you do secure time with your MP you might like to take a look at our MP talking points spelling out the issues.

Talking points to cover when you meet your MP
Some people say there are too many badgers. Do they need controlling?

There is no clear link between the density of badgers and rates of bTB in either badgers or cattle.

Badgers are a valued species in the UK, protected by law. 25% of the European population is found in the UK, so we have an international responsibility to conserve them. The removal of one animal from the ecosystem has knock on impacts. For example, large-scale badger culling also led to a doubling of fox numbers.  

Badgers and their setts are protected under the Protection of Badgers Act 1992, which makes it illegal to kill, injure or take badgers or to interfere with a badger sett.

If you are aware that a badger or sett may have been disturbed, then please report it as this is a wildlife crime.

If you witness a wildlife crime taking place, call 999
For a non-emergency, call 101

 

Hedgehogs and badgers

Hedgehogs and badgers have coexisted for thousands of years. They have very similar diets and therefore compete for resources. Competition becomes more intense when food becomes scarce, and any pressure on the food supply may cause a shift from competition between badgers and hedgehogs to predation of hedgehogs by badgers. As with all predator-prey interactions, this is a natural and essential part of a functioning ecosystem.

The badger is considered a forager rather than a predator and in the UK its diet is dominated by invertebrates (mainly earthworms) and plant matter. However, badgers are opportunistic and will eat a very varied diet and make use of whatever is locally abundant. This can include slugs, snails, berries, acorns, grubs, fruit, nuts, bulbs, crops (particularly maize), small mammals, carrion and eggs.
Badgers need your help!
Help our badgers in the fight against bTB by supporting our vaccination scheme
Read the latest