What's it all about?
The aim of the Wildlife Trusts is to give nature a helping hand and the Working For Nature project seeks passionate individuals who want to be part of the conservation movement and make a difference to the natural world.
The Working For Nature trainee scheme is an exciting new project generously funded by the National Lottery Heritage Fund which enabled 6 lucky trainees the chance to work alongside The Wildlife Trusts for a year to develop professional skills for a career in conservation.
Six placements are awarded each year and the project runs for 4 years from 2018 – 2022. The recruits study for a Level 2 diploma in Environmental Conservation and work alongside professionals in the field learning valuable lifelong skills along the way.  Thanks to the National lottery, successful applicants will receive a generous bursary of £10,875 to cover the year working with the trusts.
The project is split between 3 of our Trusts – Derbyshire Wildlife Trust, Nottinghamshire Wildlife Trust & Sheffield & Rotherham Wildlife Trust and 2 trainees will be selected from each area each year.
The trainees will work hand in hand with the Trusts and its volunteers undertaking practical conservation tasks that will equip them with species and habitat management skills alongside valuable life skills.  Trainees will also gain specialist training certificates in areas such as first aid and brush cutting.
Kirsty's Story

My name is Kirsty Dexter and I am a Working For Nature trainee based at Attenborough Nature Centre in Nottingham.

I've always had a passion for nature and our natural environment but as I have never studied for a formal degree, I didn't think it would be possible to pursue a career in conservation until I came across this fantastic opportunity.

I had previously worked in offices for the last 15 years and following the birth of my daughter I realised it was time to make a change and pursue a career in an area that I feel strongly towards – Nature and ensuring it is around for our future generations.

The traineeship has given us an amazing opportunity to work side by side with highly skilled, passionate people learning day to day conservation tasks and why these tasks are so vital.

So far during the course we have already undertaken a huge variety of tasks from tree felling, hedgelaying, scrub clearance, clearing invasive species, educational sessions, fixing the windows on one of our hides and even fixing a puncture on the ranger bikes. We also work with different groups of volunteers daily picking up helpful tips and knowledge along the way. Being a "hands on learner" this traineeship is ideal for me and I'm looking forward to furthering my skills and broadening my knowledge throughout the course.

One of my main interests is the educational side of conservation, passing the vital skills on and teaching the future generation to care for the natural world. I was inspired by taking my daughter to a forest school session and long-term I hope to set up my own sessions with the knowledge I obtain from the course behind me. David Attenborough once said "Understanding leads to concern and concern leads to love" and I would like to engage the younger generation in nature so that we have brighter future with nature at the heart of it.

 
Helen's Story

Hello, I'm Helen and I'm based with Nottinghamshire Wildlife Trust at Attenborough Nature Centre. I grew up in Nottingham and regularly visited this lovely wetland site; an oasis of calm amongst the urban buzz of the surrounding towns and city.

My background was administration, with a bit of Pilates instruction thrown in for some much-needed variety from my desk job. I had been yearning for a career change for years and desperately wanted to make the leap from indoor to outdoor, from pushing paper to sawing wood, I just didn't know how.  Everything changed when I freed up some time to pursue a variety of practical conservation volunteer work.  It convinced me this was absolutely the direction I wanted to go in and when I found out about the Working for Nature traineeships during the John Muir Award at Attenborough Nature Reserve, I absolutely jumped at the opportunity.

So far, I have been out with the volunteer parties, learned all about health and safety out on site and have been getting stuck in to the winter work we need to do for good management of the many reserves we work on.  I've just completed my first aid refresher and am looking forward to gaining my brush cutter certificate in December.

I'm aware that competition for practical conservation posts is high so I'm making the most of every opportunity and keeping an open mind as to where this might lead.  I am hoping that the traineeship will equip me with the skills to move into work that I feel passionate about, and allow me to keep contributing towards the conservation of wildlife and nature.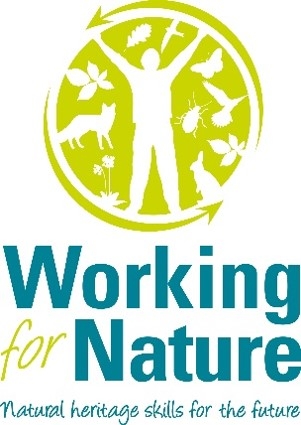 Take the first step towards a career in conservation. 
For specific questions please contact Lisa Witham at the Derbyshire Wildlife Trust.
Mobile: 07384 810159
Switchboard: 01773 881188