Attenborough Nature Reserve needs a Lifeline
Help us raise £1 million to purchase Attenborough Nature Reserve and look after its precious habitats and species


Can you help us to reach our target before 31st January 2020?
Attenborough Nature Reserve is a symbol of hope in a challenging world. It is a natural oasis at the edge of a big city, full of remarkable and beautiful birds and other wildlife. Please give as generously as you can to help us make sure this place is forever safe in the hands of Nottinghamshire Wildlife Trust.

President Emeritus, The Wildlife Trusts
Can you provide a lifeline for Attenborough Nature Reserve?
It may come as a surprise to know that despite being cared for by Nottinghamshire Wildlife Trust for almost six decades, Attenborough Nature Reserve still belongs to aggregates company CEMEX UK. Following intensive negotiations with the company we have secured an opportunity to buy the reserve.
We need to raise £1 million to safeguard its future for people and wildlife.
However, if we are unable to raise the funds to purchase and manage the reserve, this deal could fall through, leaving the future of the site uncertain.
How to Donate
International Donations

For overseas donations, please use the details below. Thank you!

BIC:       NWBKGB2L

IBAN:    GB76NWBK60800900555010
Gift Donation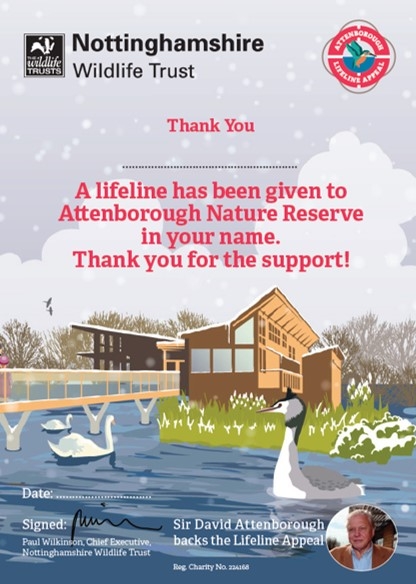 Donate as a gift!
You can also now donate as a gift by following the online donation form.
Your gift certificate will be ready to download once payment is completed.
Download the certificate and personalise to give to your recipient!
Can you provide a lifeline for Attenborough Nature Reserve?
We really need your help to secure Attenborough's future
Sir David Attenborough backs the Lifeline Appeal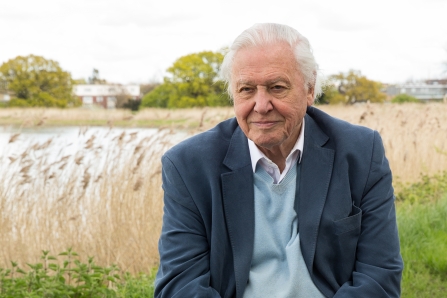 "Everyone needs a lifeline to the natural world and that's exactly what you'll find here at Attenborough Nature Reserve.
As our towns and cities become larger, finding places where wildlife flourishes has become harder, but here, at Attenborough, wildlife is all around you. My father and grandfather were both born nearby, hence the family name, and I was invited to open both the nature reserve and the visitor centre. Since my first visit back in 1966, Attenborough has developed into one of the most important wildlife sites in the east midlands. Attenborough Nature Reserve is undoubtedly an unforgettable place to experience the natural world and the Nottinghamshire Wildlife Trust play a very important part in protecting it and I would encourage anyone who cares about wildlife to support them."
Sir David Attenborough
President Emeritus, The Wildlife Trusts
A History of Attenborough Nature Reserve
Attenborough nature reserve is one of the most important sites for wildlife in the UK.
Nottinghamshire Wildlife Trust fought to save Attenborough Nature Reserve back in the 1960s and have managed the site ever since on behalf of its owners. Learn more about the history and importance of this much loved wildlife haven. 

My Attenborough
Learn from local people and stories why Attenborough Nature Reserve is such a special place, connecting people with wildlife like nowhere else.
News from Attenborough Nature Reserve