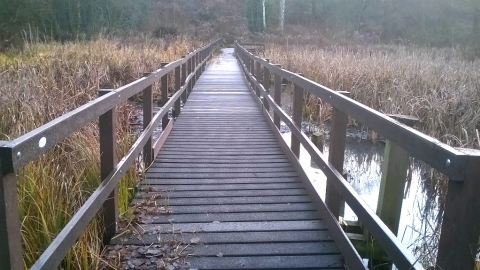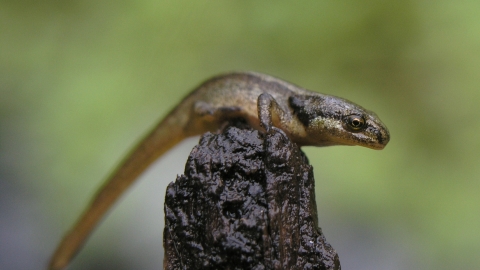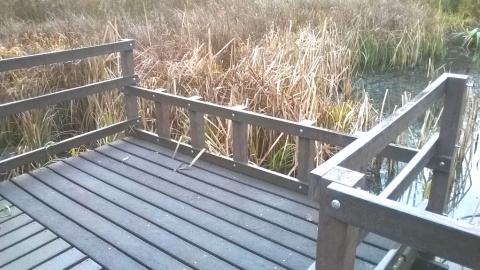 Moorbridge Pond and Springfield Corner Nature Reserve
A site of considerable importance, being one of the few wetlands left within the boundary of the city
Know before you go
Entry fee
Free access
Parking information
There is no designated parking but parking is available on nearby roads.
Walking trails
A path has been laid which links with the boardwalk that crosses parts of the marsh
Access
The site is adjacent to Moorbridge with the entrance from Bestwood Road, off Hucknall Road, Nottingham.  If travelling by tram, alight at the Moorbridge tram stop, walk through Springfield Corner reserve and then over the bridge onto Bestwood Road.
Access to the reserve is open at all times with footpaths leading to and around the reserve.  This reserve is owned and managed by Nottingham City Council.
When to visit
Opening times
Open at all times
Best time to visit
April to July
About the reserve
Moorbridge Pond is situated around the original "Bull Well", a freshwater spring, and is the last remnant of a piece of wetland formerly known as Bullwell Bogs. The marsh is dominated by greater reedmace and tufted sedge. A number of attractive plants can be found growing amongst the sedges, such as hairy willow herb.
Springfield Corner is a small triangular urban site is located in Bulwell on the opposite side of the railway/tram line to the Moorbridge Pond reserve and is designated as a Local Nature Reserve (LNR). Springfield Corner had a makeover in 2012 thanks to the Heritage Lottery Fund (HLF) and the nature trail is now restored, access is improved, and the site has a lovely woodcarving of a frog! The path into the site walks you through both woodland and wildflower areas, and you will find a wildlife site with as many habitats as can be fitted into a small area!
Contact us
Nottingham City Council General Parks Service
Environmental designation
Local Nature Reserve (LNR)
Local Wildlife Site (LWS)