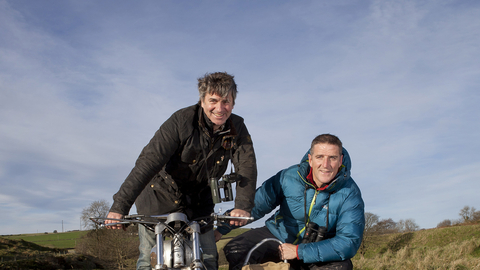 An Evening with Iolo Williams and Martin Hughes-Games
Location:
The Albert Hall Conference Centre,
North Circus Street,
Nottingham,
Nottinghamshire,
NG1 5AA
Book
Wildlife TV presenters Martin Hughes-Games and Iolo Williams have teamed up for an amusing and informative show for the whole family.
About the event
Extremely wild about wildlife these two brilliant and entertaining enthusiasts will take the audience on a funny and fascinating journey. The journey begins with stories from their childhood when their love of nature and wildlife was just natural: Martin's love of chickens and Iolo's connection with fish and a compulsive desire to skip school, preferring to be out in the wild. The journey continues with stories of the occurrences and life events that lead them to where they are today, including Martin's experience as a producer/director (there's plenty of tales to tell here) and Iolo's experience working with the RSPB catching egg thieves and working with the army. The tales of their journeys continue to where they are today: well known and passionate wildlife TV presenters working with the BBC to educate and inspire its audience to connect with and care for the natural world. Here the audience can take a look behind the scenes of wildlife TV presenting and some of the interesting things it entails.
Along their journey they are assisted by a very well known VIRTUAL wildlife expert, popping up at just the right moment to make sure the facts are correct. He makes an exciting, funny and very informative addition to the show.
You can be sure it won't be boring and nobody will fall asleep as the show involves audience participation, plus there is a wildlife 'agony aunt' to answer any wildlife questions the audience may have.
All in all this is a funny, informative and very wild show!
Martin Hughes-Games
Martin Hughes-Games trained as a zoologist before joining the BBC science department as a researcher and moved on to film production.
He has worked in television of 30 years and presented film and live television for BBC1 and BBC2. He is passionate about wildlife and is also an active conservationist. He was a member of the Springwatch production and presenting team from 2006 until 2018.
Iolo Williams
Iolo Williams is a Welsh naturalist, broadcaster, public speaker and writer who's worked in conservation for over 30 years.
He is most widely known as a popular member of the Springwatch, Autumnwatch and Winterwatch presenting team and for presenting series such as Wild Wales, Rugged Wales and Great Welsh Parks for BBC 2.
Martin Hughes-Games and Iolo Williams are touring together with their Wildlife Road Trip from 2016, bringing their experiences of the world of wildlife TV presenting to the audiences along with many interesting and unusual wildlife facts.
Booking
Price
Restricted View: £8
Child (under 16): £18.95
Adult: £24.95
VIP (priority seating, book, signing queue jump & refreshments included): £59.95
Additional booking information
Book your tickets using the button below.

To book wheelchair accessible tickets please enter the promo code ACCESS.
We offer a discounted ticket for carers, please get in touch in order to claim the discount.
Suitable for
Families, Children, Adults
Know before you go
Mobility
Accessible Entrance is located directly off the Maid Marian Way roundabout adjacent to the Royal Bank of Scotland. Access is gained via a small ramp leading to a level entrance labelled Entrance 4 above the door. An intercom is provided at the base of the ramp, where access can be requested. Once alerted a member of the Albert Hall team will open the door and are happy to assist if required. 
Wheelchair access
Use the promo code ACCESS to book wheelchair friendly seats.
What to bring
Please bring your ticket with you as either a mobile version or printed out.
Location: The Albert Hall main entrance is located on North Circus Street (One Way), opposite St Barnabas Cathedral and adjacent to the Nottingham Playhouse in the city center of Nottingham. Access is gained via large wooden double doors. Sat nav post code: NG1 5AA or NG1 5AE
Car Parking: Secure NCP Parking: Reduced day and 24hr rates are available for two nearby multi story car parks, both are within easy walking distance and visitors of the Albert Hall can park at these car parks. You will receive a ticket which can then be validated on your arrival at the Albert Hall reception. The current daily parking rate is £6.40 when reduced. NCP St James Street (NG1 6EY) NCP Mount Street (NG1 6HG)
On Street Metered Parking: All the streets surrounding the Albert Hall offer metered parking. Zone 1: 8am to 10pm (Monday to Sunday) £2.00 per hour Zone 2: 8am to 10pm (Monday to Sunday) £1.00 per hour
Train Station: The nearest train station is Nottingham Train Station and is just a 15 minute walk from the venue or a 5 minute taxi/tram journey.
Tram Network: The Albert Hall is partnered with our local tram network and offer a £2.50 park and ride return deal. The nearest Tram stop is 'Royal Centre' just a short walk to The Albert Hall. NET operates 7 park and ride sites across the City. The nearest park and ride, 7 minutes to the city is The Forest (NG7 6AQ). For other Park & Ride sites visit thetram.net
Attendees must fill in the left hand side of ticket (click the button below to download) before travelling and remember to purchase an event ticket from the machines located at the tram stops.
Failing to have both of these tickets could result in a penalty fare. Should you have any issues when arriving at the ticket machine, the help point on the side will put you in direct contact with the NET customer service team.