Attenborough Nature Reserve was established in 1966 and was opened by Sir David Attenborough. This much loved, nationally important site is best known for its birds with over 160 species recorded, but also provides a home for hundreds of species of plant and insects. It is cited as one of the best places in the UK to see kingfisher and is also home to rare wildlife including bitterns and otters. The reserve attracts around 500,000 visitors each year and holds a special place in the hearts of many – with families having visited for three generations.
Avian Flu: advice for visitors

The current strain of avian Flu reported in the UK (H5) is very low risk to humans.

The disease is transmitted from bird to bird, so we have been advised that there is no health risk to humans visiting our Reserves, as long as you do not touch any birds.

As an additional measure to prevent birds congregating whilst being fed by visitors we are asking people not to feed birds at the reserve whilst Avian Flu cases are high. We recognise that people enjoy feeding the birds, especially children and families, but believe that the current situation requires a cautionary approach. Whilst providing a welcome treat, supplementary feeding is not essential for reserve's wild birds. We have temporarily suspended the sale of bird corn.

Find out what to do if you find a dead, sick or injured bird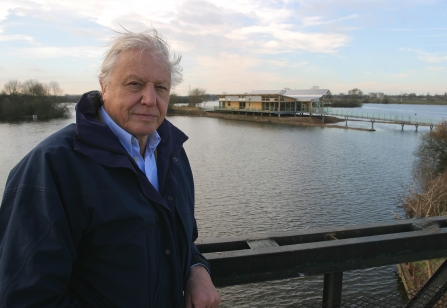 "Everybody needs to have a lifeline to the natural world, and as our towns and villages become larger, they're becoming increasingly hard to find…the survival and flourishing of places like this demands continuous work and attention."
Sir David Attenborough (talking about Attenborough Nature Reserve)
Wildlife to see at Attenborough
Will you help us look after this special place?
Any donations will help us to look after this special place for wildlife and visitors
Upcoming events at Attenborough...
Photo Gallery