Idle Valley Visitor Centre & Nature Reserve
Car park open, centre closed
Idle Valley Visitor Centre & Nature Reserve
Like all of our reserves across the county, Idle Valley Nature Reserve remains open to visitors during the COVID-19 pandemic. With its wide open spaces, this beautiful network of lakes, wetland, grassland and woodland provides an ideal location to connect with nature and get some fresh air. 
We're delighted to confirm that the car park at Idle Valley Nature Reserve off North Road is once again open to visitors. We'd like to thank visitors and supporters for their patience in this matter and for their forbearance as we focus on getting the centre facilities reopened to visitors in the weeks ahead.
Don't forget that we have many other wonderful reserves in North Notts including Treswell Wood and Kirton Wood.
Our team are working extremely hard at Idle Valley and across the north of the county to keep our reserves in good order and working with partners on a range of exciting initiatives which are delivering real gains for wildlife from the heart of Sherwood Forest to wider Idle Valley. This is all being achieved whilst dealing with the challenges of working during a pandemic and ensuring that we keep team members, volunteers and visitors safe. This work wouldn't be possible without our members and supporters.
Thank you. 
Will you help us look after this special place?
Any donations will help us to look after this special place for wildlife and visitors
Idle Valley is the largest reserve in our care, located just five minutes away from Retford and within an hour of Nottingham, Lincoln, Doncaster, Sheffield and Newark.  
This beautiful nature reserve is one of the largest in the East Midlands too and has something for everyone. Whether you're planning a gentle stroll with the family, a spot of lunch in a tranquil setting or are looking for somewhere to spend a whole day wildlife watching Idle Valley Nature Reserve is the place to head. We have a wheelchair and pushchair friendly lakeside walk too.
Idle Valley is one of the richest birding sites in the region and species to look out for in winter include gadwall and little grebe. Our café and shop offer a warm welcome and a spectacular view over the reserve making it an ideal destination whatever the weather.
There is also a natural play area for self led den building and exploring!
Idle Valley Visitor Centre
North Road
Retford
Nottinghamshire
DN22 8RQ
Tel: 01777 858 245
For out of office hours, please leave us a message.
Den building area
The purpose built den building area on the left just off the path before you get to Belmoor Lake is open to all for self led den building and nature exploration. The area can get very boggy when very wet so dress for the weather and wear wellies!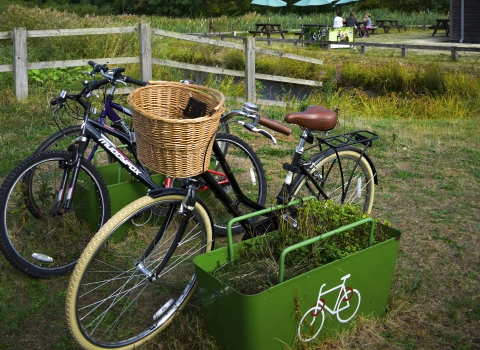 Shop
Our shop at Idle Valley stocks a range of wildlife books, gifts and toys as well as a wide range of bird food and feeders. 
We also have a specialist optics section for binoculars and wildlife watching telescopes and run regular optics events with special discounts and expert advice on hand.
View products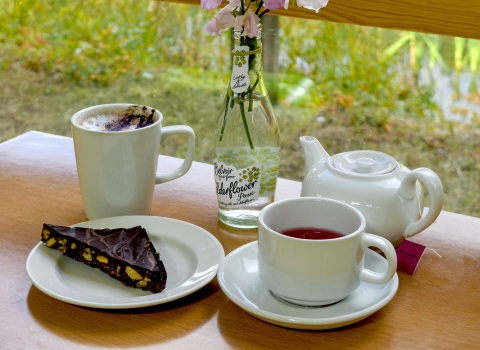 Café
Our café at Idle Valley serves a wide selection of home-cooked food, tasty snacks and hand-made cakes as well as a selection of teas, coffees and other drinks.
If you want to make the most of being outdoors, you can also enjoy your snacks and refreshments in our shady picnic area.
Here is an example of one of our fun family friendly events at Idle Valley:
Idle Valley Nature Reserve forms part of our Idle Valley Nature Recovery Network area where we are working with partners and neighbours to restore and re-connect a range of wildlife habitats.
The reserve is the base for the management of all our nature reserves across the north of the county including Daneshill Lakes and Treswell Wood, the first reserve ever purchased by the Trust.
For those wanting to learn more about the reserve's wildlife we host activities such as monthly bird walks.
If you also want to get involved in caring for this special nature reserve there are a number of volunteer opportunities available.
Volunteers are needed to help care for the reserve but also to help with welcoming visitors, serving in the café and working with families and children at our Wildlife Watch sessions.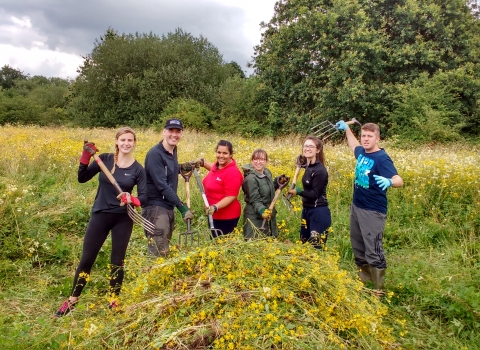 Volunteer with us
We welcome you to join a great team, make new friendships, discover nature in unique ways and make a real difference for nature and for people.
Find out more
What's going on at Idle...