A once in a lifetime opportunity
With your help we can secure a greener future for the Broadmarsh.
Nottingham has a once in a generation opportunity to transform the former Broadmarsh Shopping Centre into a space for nature and people, signalling a new greener future for our city.
As we've all faced the challenges thrown at us by the Covid-19 pandemic our need for access to greenspace and nature has never been greater but the heart of our city is grey – not green. Now is the time to put nature back.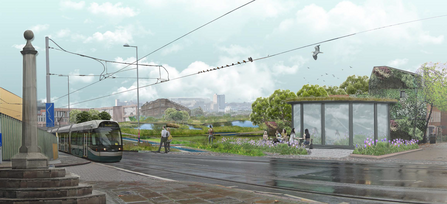 We want the Broadmarsh transformed into a new natural greenspace for our City by taking a nature first approach to urban planning Nottingham City Council can help put nature into recovery and secure a greener recovery for our city.
Campaign updates
May 2021 update

Last December Nottinghamshire Wildlife Trust launched our bold and ambitious vision for the for a re-imagined Broadmarsh site, wonderfully illustrated by our friends at Influence, transformed from a redundant decaying shopping mall into a welcoming species rich natural greenspace that would help ensure better equity of access to natural areas for city residents and help mitigate the climate and ecological crises we all face.

Back in December it was clear that there was a real public appetite for such a visionary plan yet Nottingham City Council, which had been landed with the problem of deciding and funding the site's future after the original operators handed back the keys, seemed reluctant to even accept that natural greenspace was part of the solution – let alone the solution itself. Six months on, whilst the Broadmarsh site itself remains derelict, the political and the landscape has changed somewhat. The Council is publically talking about natural greenspace being a key element of the plans and a special panel has been appointed to draw together ideas and to formulate a deliverable plan for this important site.

Thanks in no small part to the overwhelming public backing received for our vision we were the first organisation to be invited to present our aspirations to members of the panel and we have subsequently worked alongside other groups including the Nottingham Green Party, Nottingham Co-Housing, Nottingham Good Food Network and Nottingham Lib Dems – who all submitted green visions of their own for the site, to agree a set of shared principles we wish to underpin the redevelopment of the site.

We have also continued to lobby councillors and MPS to ensure that the redevelopment of this site is not 'business as usual' - our city, its people and its wildlife deserve more. This is an issue we face right across the county with developments threatening key habitats and species and every day decisions being taken by developers and planning authorities failing to reflect the perilous state of nature and the urgency with which we need to turn decline into recovery. We are fighting on a seemingly endless number of fronts and we need your continued support to turn this situation around.

It is clear from our conversations with decision makers and influencers that the combination of our vision and the level of support it has received has significantly moved the debate about the Broadmarsh in the right direction but we cannot be complacent.

If you haven't already backed our vision you can do so here. 

In the months ahead we will continue to promote our vision with the panel, City Council officer and elected members and to work with partners who share our green aspirations. We are also gearing up for a busy period of campaigning following the inclusion of the Environment Bill and the Planning Bill in the Queen's Speech. Both of these could have a dramatic impact on how our towns, cities and countryside can be part of nature's recovery in the future and we will continue to give nature and those who care passionately about it as we work to create a wilder Nottinghamshire for everyone.

Our wider work to secure nature's recovery is having an impact too.

The voices of the thousands who have campaigned alongside us is making the Government pay attention. 

The UK has taken a step closer to a wilder future after Environment Secretary, George Eustice, set out plans to restore nature by 2030. The announcement was made during a special edition of our Wild LIVE series. You can catch the speech and the panel debate afterwards on our YouTube channel.

Despite very positive words and welcome commitments there was some worrying news in the announcement. We are particularly concerned that the Habitat Regulations in England are to be 're-focused'. –with Mr Eustice saying this was to help ensure the Government can meet its stated ambitions for nature's recovery. These regulations focus on protecting our most precious wild places and our most threatened wildlife, like otters and harbour porpoises to Special Areas of Conservation. There is some value in updating them, but they simply cannot be watered down. 

ust as we intend to keep the pressure on Nottingham City Council to do the right thing for the Broadmarsh site we will be holding George Eustice to his word to ensure any changes really do deliver a brighter future for wildlife. We'll be in touch when we have more news, meanwhile our Director of Policy, Joan Edwards, has more. 
January 2021 update

We were aware that many people wished to see a proposal for the Broadmarsh redevelopment which put nature at its heart, but we have been staggered by the sheer level of support and hugely motivated by the messages of good will and offers of support that have flooded in from across the city, county and beyond.

We have now submitted our ideas and priorities to Nottingham City Council as part of The Big Conversation consultation and we have also had an initial meeting with the council to highlight the level of public support for our approach and to underline our commitment to trying to turn our vision into a reality.

Turning our aspirations into real change on the ground will not be easy. Whilst there is clearly a public appetite for a greener approach for the Broadmarsh site there are also other demands being placed on the site with calls for housing, employment and retail space. We also recognise that funding and future investment in our city are key issues and we have therefore offered to work with the council to explore opportunities for funding which might enable a nature first approach. It is however, exciting to see that many of the proposals for more mixed development also include an emphasis on the importance of natural greenspace. It would appear that there is a real appetite for change.  

Over the coming weeks and months we will continue to work with Influence Landscape Architects and others to build support for our vision.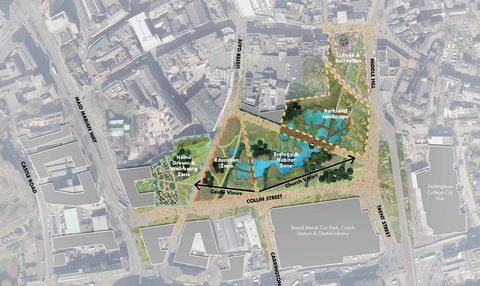 Showing your support
Thank you for showing your support!
A Broadmarsh re-imagined as natural greenspace would help set Nottingham out from the crowd as city's across the UK seek to recover from the impacts of Covid-19 and an investment that will reap rewards for generations to come.
The Broadmarsh re-imagined
Putting people and nature at the heart of Nottingham's green ambitions.
As Nottingham seeks to recover from the human and economic impacts of Covid-19, a Broadmarsh re-imagined as natural greenspace would improve the health of city residents and demonstrate the city's commitment to tackling the climate and ecological crises.  
Nottingham has greenspaces to be proud of, not least the magnificent Wollaton Park, but the heart of our city is unmistakably grey not green. Now is the time to put nature back.
A reimagined Broadmarsh, with 100% of the demolished site transformed into a natural urban oasis, would become Nottingham's living breathing heartbeat – a mini Central Park where people can connect with nature and escape the stresses of modern life without leaving the city.
Such a bold green vision could set the city on a course to a greener economic recovery, boost tourism and stimulating inward investment. As we work to secure 30% of the UK's land for nature by 2030 this wild green ambition should be seen as a catalyst for further investment in existing greenspaces; to bringing people together and to putting the city's nature into recovery at a time when access to natural greenspace has never been more valued or needed.
The Broadmarsh re-imagined vision

Championing wildlife in the city
Since the 1980s Nottinghamshire Wildlife Trust has championed the promotion and protection of wild greenspaces across the City. From fighting to save vital wetlands such as Martin's Pond and Moor Bridge Pond to establishing the Nottingham Environment Partnership, a forerunner of today's Nottingham Green Partnership, to campaigning to safeguard the Nottingham Crocus and protecting the famous city centre peregrine nest - the Wildlife Trust has stood up for people's right to access wildlife-rich greenspace on their doorstep.
The Trust also secured huge investment and engaged with thousands of city residents through its successful Wildlife in the City programme and its staff and local volunteers continue to support conservation activity on sites across the city including Woodthorpe Meadow Nature Reserve on the edge of Sherwood which is cared for by the group of young people calling themeslves 'Keeping it Wild'.
Working in partnership
Thank you to Influence Landscape Architects who kindly supported us with this vision and provided the images.