Nottinghamshire Wildlife Trust is the leading wildlife conservation charity working to protect and enhance the wildlife and habitats of Nottinghamshire.
What we do

We care for dozens of nature reserves across the county, including a mixture of valuable wildlife habitats ranging from beautiful wildflower meadows to splendid ancient woodlands.  We engage the local community through events, education and volunteering opportunities and seek to ensure our county is a healthy and wildlife rich place to live.

We are a leading voice in standing up for wildlife and the environment. Particular attention is given to positively influencing the planning process at the district, county and regional levels. We also work nationally in partnership with sister Wildlife Trusts.

Not only do we manage our own land, we also advise other landowners how to manage their land to benefit wildlife. We are always looking for new ways to secure the future of the county's natural world and we are currently developing a range of projects that link habitats and landowners over large areas of land and seek to influence the management of whole landscapes, placing wildlife conservation at the heart of decision making.

We aim to creating a wilder future for Nottinghamshire, with a vision to recreate and reconnect our fragmented landscape. This involves restoring large areas of habitat, improving the connections between greenspaces and making the wider landscape more wildlife friendly. With your help we can shape a bright future for the wildlife and people of the county.
Governance

Nottinghamshire Wildlife Trust is run by a Council of Trustees according to its Memorandum and Articles of Association and Regulations. Decision making is undertaken by Trustees at Council meetings and at the Annual General Meeting for members.

We are also a partner in the largest voluntary organisation in the UK concerned with all aspects of wildlife conservation, The Wildlife Trusts. This partnership of 46 individual Trusts manages more than 2,300 nature reserves and has more than 800,000 members.
Vision

The Trust's vision is for Nottinghamshire's people and wildlife to thrive together.

We believe:

The natural world is valuable in its own right and is under threat
People are part of the natural world and we depend upon it for our existence
Everyone should have the opportunity to live in a healthy, wildlife-rich natural world
It is vital that we work with others because we all have the power to make a positive impact on the nature and climate emergencies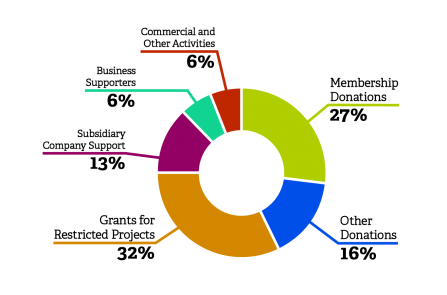 Nick Parsons

Nick Parsons Nottinghamshire Wildlife Trust Chair of Trustees

Hello my name is Nick Parsons, I am Chair for Nottinghamshire Wildlife Trust.
Committees: Nottingham Urban Wildlife Scheme (NUWS) and the Council

I qualified as a solicitor in 1989 and spent my career at Browne Jacobson solicitors in Nottingham.  A partner since 1994 I headed the Insurance and Public Risk Department which defends claims on behalf of insurers, indemnifiers and insureds.  In that role I was responsible for a team of over 200 people.

I sit on the firm's Strategy Board, and I am client relationship partner for some of the firms key clients.  I specialise in defending personal injury compensation claims against local authorities and I had  a particular expertise in large scale group action child abuse claims. I was also an experienced clinical negligence litigator and I have  also been instructed in respect of several public inquiries on behalf of local authority and NHS clients.

I have been on Council for over 15 years,  with my main current role within NWT is to act as a trustee for the Sherwood Forest Trust.  For many years prior to that I was heavily involved in the City Group and NUWS.

In addition to NWT and SFT, I am also a trustee of a small grant making Trust (The Stoneyholme Trust) and also Browne Jacobson's own charitable grant making Trust.

Outside work my interests include cricket (Yorkshire and England), football (Liverpool), history, nature conservation and birdwatching.  I  live with my partner and young daughter in Nottingham.  My ambition is to retire and become a full time birdwatcher!
Martin Willis

Martin Willis Nottinghamshire Wildlife Trust Vice Chair of Trustees and Chair of Nottingham Urban Wildlife Scheme (NUWS)

Hello my name is Martin Willis, I am a Vice Chair of Trustees for Nottinghamshire Wildlife Trust.
Committees: Resources and General Purposes Committee (RGPC), Nottingham Urban Wildlife Scheme (NUWS) (Chair), HR Working group and the Council

A potted biography of sorts.

I have lived in Nottingham from age 10, fairly invested in City….
Married, 3 adult stepchildren, two dogs, cat, chickens, fish & assorted garden wildlife. Crowded house.
First career – straight from school at 18 with paltry A-levels to be a book packer, over the following 12 years I eventually became a distribution manager for a wholesale bookseller covering half the country.
Uninteresting anecdote #1: Jeffrey Archer once shook my hand effusively, only because his publishers sales manager had just pointed out that I'd bought 50,000 copies of one of his books; even more depressingly we sold them all on.
First career terminated by redundancy after about 12 years, followed by 2 or 3 years of self-indulgent semi-retirement.
Second career – library assistant for a while then a library manager, then managing Nottingham's Central Library for some time before becoming Senior Library Manager & overseeing half the City's libraries.
Second career also terminated by redundancy, this time after 20 years.
Used to be wealthier & consequently well-travelled – uninteresting anecdote #2: once shared a flight, in club class (bounced up), with Mick Jaggers children; Mick Jagger and minders were in first class, go figure.
Currently part-time self-employed gardener, p/t Open University Student, Secretary of Allotment site and of course the Trust. General busybody (2nd stepdaughter's words). Less wealth, more happiness.

Committees

Chair of Nottinghamshire Urban Wildlife Scheme
Mike Spencer

Mike Spencer Nottinghamshire Wildlife Trust Vice Chair or Trustees and Chair of EMEC

Hello my name is Mike Spencer,  I am a Vice Chair of Trustees for Nottinghamshire Wildlife Trust.
Committees: NWTTL (Nottinghamshire Wildlife Trust Trading Ltd) (Director), Resources and General Purposes Committee (RGPC), People and Wildlife (PAW), Finance Sub-Committee, Supporter Journey Working Group (Chair) and the Council

I started work for the Courtaulds Group in 1967 as a very junior production assistant, after leaving the Army, eventually rising to the exulted heights of Divisional Chief Executive almost 20 years later. Probably the most fascinating period of my working life was the 10 years I spent as a management consult working in Eastern Europe on behalf of the European Bank of Reconstruction helping to prepare Polish and Romanian companies for their exposure to global trade. I finally gave up gainful employment when I ceased working as the Finance Director of a company I formed some 10 years ago. This follows a career in business management, consulting and new business start-ups mainly, though not exclusively, in the Textile and Clothing industry. 

My wife Sue and I have always been "outdoor" people but only in the last 10 years or so, really since the opening of the Attenborough Nature Centre, have we become deeply absorbed in Wildlife and conservation.  We now spend as much time as we possibly can, allowing for the demands of our allotment, enjoying the wildlife and environment that the UK has to offer. In the last few years we have become Scotland devotees having toured the Mainland and closer Islands on a number of occasions.
Robert Armitage

Robert Armitage
Nottinghamshire Wildlife Trust Trustee, Honorary Secretary of Trustees

Hello my name is Robert Armitage and I am the Honorable Secretary of Trustees for Nottinghamshire Wildlife Trust.

Committees: Resources and General Purposes Committee (RGPC), Conservation Committee (Chair), People and Wildlife (PAW), Health and Safety Working Group and the Council

Profession
Retired Chartered Civil Engineer

I have lived in Beeston, Nottinghamshire since 1986 and am married with two grown up children. For the first twenty years I worked near the University of Nottingham, because the local office was created through a joint venture between the University and Scott Wilson (a firm of consulting engineers). I oversaw the growth of this office from 4 staff to over 250, moving to Chilwell in 2006, about one mile from Attenborough Nature Reserve.  

My background in carrying out voluntary work dates back to the early 1980's, when I was involved in a range of Young National Trust/National Trust Volunteer Groups (including the formation of West Yorkshire YNT and re-establishment of Nottinghamshire NTV). This was followed in the 1990's by a period of nine years when I sat on the East Midlands Regional Committee for the National Trust.

I have been a member of Nottinghamshire Wildlife Trust for over 25 years, converting to life membership in 2014. In addition I am a member of the National Trust, Woodland Trust & the Royal Horticultural Society.

Professionally I have been the Chairman of the Nottingham & Derby Section of the Permanent Way Institution,  and Chairman of the East Midlands Region of the Institution of Civil Engineers for two years from 2011-13. I do not see any conflict between civil engineering and the aims of a wildlife charity. It is a requirement of our institution to consider sustainability in our work; by using our skills and experience, engineers have much to offer in achieving a balance between the current and future needs of society and the conservation or creation of habitats for wildlife.

My professional experience means that I have been directly responsible at various times for financial administration.

I also have knowledge of establishing an ISO 9001 Quality Management System, and a BS11000 Collaborative Business Relationship system. Prior to retirement I focused on Health, Safety & Welfare, and sat on the Sustainability Committee, representing over 1000 staff across the UK.
Colin Gibson

Colin Gibson Nottinghamshire Wildlife Trust Trustee and Honorary Treasurer of Trustees

Hello my name is Colin Gibson, I am a Hon Treasurer and Trustee for Nottinghamshire Wildlife Trust.
Committees: Resources and General Purposes Committee (RGPC) Finance Sub-Committee (Chair) and the Council

I was bought up in the Home Counties and after taking a degree in geography and economics at London University (Bedford College, amongst the wildlife of Regents Park) I became a tax inspector, moved to rural North Yorkshire and married my wife Carol. 

After running a Grimsby tax office in the 1970's my work life led to specialisation in fraud investigation, we arrived in West Bridgford in 1983, now with boys aged 8 and 5, where we have remained.  I was by then in charge of the Inland Revenue counter fraud office covering most of eastern England and later had national training and senior management roles in the same organisation.  I moved into the Senior Civil Service in 2000 managing Valuation and by the time I retired in 2010 from what was then HMRC had overseen various esoteric aspects of personal taxation including Inheritance Tax as well as having management responsibility for compliance in what is now called specialist personal tax – which incidentally included responsibility for oversight of Charities.

Carol taught in several Nottingham schools, the family grew up and we travelled a lot, initially in Europe and then further afield enjoying in particular the Middle and Far East.

Though working across UK restricted my involvement in local activities I was at times a governor at several West Bridgford schools. After I retired became more involved in volunteering, including  Friends of Bridgford Park and as a trustee of Nottingham Housing Advice.  When cuts sadly led to NHAs demise I applied, having been an inactive member for many years, to become a trustee of NWT.  Once accepted in late 2015 I was somewhat disconcerted by very quickly being invited to become Treasurer  –  but I am enjoying using my management experience to settle into that role as I learn more about the organisation.

Outside work we know from experience the need to value every day as it comes; we continue to travel and enjoy living close to our 3 grandchildren.  As geographers we thoroughly enjoy the outdoors, in particular landscape and flora - though NWT has spurred us to acquiring better binoculars and starting to learn more about birdlife too!  We have a personal target to visit every NWT site within the next 2 years.  We belong to a local Amateur Dramatic Society (inevitably I am Treasurer), are involved in local politics and I'm very pleased indeed to have more time to work on our house and garden.
Bill Logan

Bill Logan Trustee Nottinghamshire Wildlife Trust Trustee and Chair of Resources Committee

Hello my name is Bill Logan I am a Trustee for Nottinghamshire Wildlife Trust.
Committees: Resources and General Purposes Committee (RGPC) (Chair), Finance Sub-Committee, Health and Safety Working Group, HR Working Group and the Council

•   I am a recently retired civil servant with HR experience.  
•    I have been a Trustee since 2011.
•    I am a  founding  member and Secretary of the Friends of Sharphill Wood in Rushcliffe
•    My main interest is the protection and maintenance of woodland accessible to the public.

 

 
Cally Keetley

Cally Keetley Nottinghamshire Wildlife Trust Trustee

Hello my name is Cally Keetley, I am a Trustee for Nottinghamshire Wildlife Trust.
Committees: Nottingham Urban Wildlife Scheme (NUWS), People and Wildlife (PAW) (Chair) and the Council

I was born and raised in South Yorkshire.  I have always had a love of the outdoors and the natural world. My first job was as a countryside ranger at one of Rotherham's country parks.

I moved to Nottingham in 2009 to take a job as a community fundraiser at the local blind charity. Following this, I spent four and a half years working at the Royal Society of Wildlife Trusts in Newark in various roles: Managing projects for The Wildlife Trusts' centenary including a book and film on the history of the movement and various celebratory events; Executive Assistant to the CEO; and as Development Officer working to generate funding for The Wildlife Trusts movement from trusts, foundations and other grant making bodies.

From 2015 to 2019 I worked at the University of Nottingham in its Campaign and Alumni Relations Office, which is responsible for generating gifts of time and money to University projects from alumni and other supporters. Most of my time was spent as a project manager, managing cross-team projects in areas such as communications, insight and supporter experience.

I am now Fundraising Manager for Boccia England, a national disability sport charity based in Nottingham, which is dedicated to improving the physical and emotional well-being of children and adults with disabilities through boccia.

I was a committee member of NWT's South Notts Local Group from 2014 to 2017. I am currently on a local environmental committee, Greening Beeston, and run the social media for the group. I am also a co-leader of the Yes Tribe East Midlands, a community of adventurous people who meet for campouts, evenings of inspirational stories and other events.

My hobbies include walking (particularly with my dogs), cycling and running. I live practically next door to Attenborough Nature Reserve, which is great for an evening stroll!  I also love to travel and have so far spent time in Asia, Central America and South Africa as well as various spots in Europe.
Gordon Dyne

Gordon Dyne Nottinghamshire Wildlife Trust Trustee and Chair of South Notts Local Group

Hello my name is Gordon Dyne, I am a Trustee for Nottinghamshire Wildlife Trust.
Committees: Conservation Committee and the Council

I am married to Caroline with two daughters and four grandchildren.

I Worked 30 years for Severn Trent Water initially in finance and then Transport Services (management information or more accurately messing around with computer data). Retired or severed, depending on how you look at it, in 2001. Then worked part-time for the Arboretum Health Team a GP practice (management information again) for several years and then for Nottingham City Councils Human Resources Dept (working less hours for more money and doing guess what ?) and again taking severance/retirement yet again in 2010.

My involvement with NWT began in 1993 helping with the Wilwell Farm Cutting work party. In 1995 I took over as reserve warden (there was no one else) and have continued as warden to this day. I count this as a hobby, although Caroline refers to herself (inaccurately) as a reserve widow. I keep a regular eye on the site, lead volunteer work parties, record wildlife (particularly wildflowers which are my thing), lead guided walks and liaise with the central trust about the reserve - so where are those cattle Chris or why haven`t those cattle been removed yet. I believe that basic ongoing local nature conservation activity is the foundation of our work.

Around 1995 I also got involved in the South Notts Local Group, becoming Chair in 2000 and still am. Over the years SNG has expanded its activities from a basic walks and talks programme to encompass fund raising (currently Ruddington Spring Fair and a pub quiz), attending local summer fetes with our nature table and display, as well as promoting the work of the Trust locally via EMail, our website and press releases to local parish mags etc and maintaining contacts with local NWT reserves.

From about 1999 I was involved with Rushcliffe Agenda 21 looking to ensure that nature conservation formed part of the process. This led to the formation of Rushcliffe Nature Conservation Strategy Implementation Group (RNCSIG) in 2003 with me as chair (there's a surprise) with the intention of promoting nature conservation in Rushcliffe and linking in NWT, Rushcliffe Borough Council, parish councils and local reserves and Friends Group - a role it continues to this day.

In 2007 I started going along to the NWT Sites committee on a regular basis and became a Trustee late 2011. Now that definitely is voluntary work!

Other interests include history, current affairs (news not Heat), various genres of fiction (adventure, science fiction, steampunk, Disc world, John Le Carre and Jane Austen - but definitely not Dickens and know a bit too much about Lord of the Rings for my own good, also love Radio 4 plays and documentaries - essentially if it has not been mentioned on Radio 4 it hasen`t happened. Not particularly a film fan, but love ripping yarns. For me the Hitchhikers Guide to the Galaxy (the radio programme) is the most important work of philosophy of the 20th Century - "life loathe it or ignore it you can`t love it" seems to cover so many situations!

In 2009 I received a First in Environmental Studies from Exeter University (actually went there a couple of times whilst studying!) - which was something I really enjoyed doing. In the past few years I have also done a number of Workers Education Courses and have become a MOOC junkie.

I Love walking and get severe withdrawal symptoms if I don`t get up to Derbyshire once a month. Every year I try to put together a walking holiday - one year's expedition being Hadrian's Wall. Me and Caroline love pub lunches and are a bit addicted to quizzes at the moment - the tension if the Radio Times is late being delivered - never mind the programme list, the big question is can we do the Only Connect wall this week!
Katherine Wilson

Katherine Wilson Nottinghamshire Wildlife Trust Trustee and Director NWT Trading Limited

Hello my name is Katherine Wilson, I am a Trustee for Nottinghamshire Wildlife Trust.
Committee: The Council.

I grew up on a small dairy farm in Northamptonshire and moved to Nottingham as an undergraduate.

I have had a 25-year career in marketing working in a diverse range of organisations including Anchor Trust, Capital Shopping Centres plc, British Waterways and the Museums Libraries and Archives Council. Since 2008 have provided marketing support and consultancy via my company number8marketing Ltd. Alongside this I am a designer working in traditional stained glass and contemporary fused glass, selling my work via my website, in galleries and at contemporary craft events.

For the past 6 years I have been a Waterway Partnership member (strategic volunteer) for The Canal and River Trust where I initiated projects including community attitudes benchmarking and increasing participation in running along waterway paths.

My hobbies include enjoying the arts, running and walking my two whippets. My usual outdoors haunts are the Grantham Canal towpath, Rushcliffe Country Park and the Clifton River Trent path.

I am married with a teenaged daughter.
Shilpa Shah

Shilpa Shah
Nottinghamshire Wildlife Trust Trustee

Hello my name is Shilpa Shah, I am a Trustee for Nottinghamshire Wildlife Trust.

I was called to the Bar after completing a Masters Degree, but then left behind the bright lights (and cement) of London to practice at Ropewalk Chambers. Moving to North Notts (Walesby) has been like a breath of fresh air and I cannot imagine being as happy anywhere else as I am living and working in this County. 

I work in Nottingham predominantly within the realms of civil work, regulatory matters for local and borough councils, medical and professional disciplinary matters – and I lay claim to a particular interest and speciality in legal costs (which gets most lawyers running for the hills!). I am a member on the Insurers' Fraud Special Counsel Panel, which certainly leads to fascinating work and some dramatic trials.

In my out of work life I have an active interest in exploring and appreciating the beauty of England (Wales and Scotland too!). With a young family of my own, we very much made the most of our English Heritage and National Trust Memberships – and I am hoping to do the same with my Nottinghamshire Wildlife Membership. 

It is difficult to say how I have become interested in wildlife and the environment.  I suspect my mum will attribute it back from the age of 4 when I would bring back stray worms and woodlice found rooming around the pavements of London and attempt to tend for in my bedroom.

I think my fellow Trustees share the sentiment that it is just impossible to put into words the pleasure our natural environment can give us – and how essential it is that we raise awareness and better care for and protect the natural world around us. 

I am new to the Trust but I am aiming to get as involved as I can in supporting and promoting the Trusts' stated goal of standing up for wildlife and the environment. What a great aim to have!
Ruth Thurgood

Ruth Thurgood
Nottinghamshire Wildlife Trust Trustee and Chair of People and Nature Committee

Hello my name is Ruth Thurgood, I am a Trustee for Nottinghamshire Wildlife Trust
Committee: The Council and the Chair of the People and Nature Committee.

I started out in my career as a linguist, working in France and Spain as part of my degree course at Durham.  A slight change of direction followed with a Masters in Computing which eventually led me to a career in project and programme management at Boots.

In recent years I have become more involved in leading transformation programmes, thinking holistically about how to make change successful and deliver results.  For me, it's all about setting a goal and working with others to achieve it and now, with my sons fully fledged and out in the world, feels like the right point in my life to use my experience to make a bigger difference outside the workplace.

I have been on the committees of a number of local voluntary groups, most notably as Chair of the Nottingham Local Access Forum, which works to protect and promote access and rights of way. Supporting the local community is very important to me and as a Nottingham City resident I have joined in practical conservation with the WinC NWT group and taken up my litterpicker as a Nottingham Clean Champion as well as doing everything I can in my garden at home to make a haven for Nottingham's wildlife.

I was interested in nature as a child and this was revived as an adult when I became a keen walker, even more so since we have all started to appreciate the importance of healthy ecosystems for our planet. There's a powerful benefit from being in green spaces which leads to a greater respect for the natural world. This is something I hope we can encourage more people to experience as part of our work as a Trust.

I am very excited to be a new Trustee and am looking forward to learning and contributing as much as I can over the next few years.
Paul Wilkinson – Chief Executive

Paul Wilkinson, CEO Nottinghamshire Wildlife Trust. Credit Alan Hurst

"I developed my love of the natural world while growing up in, and exploring the narrow lanes and fields near, my family home in Mansfield, in West Nottinghamshire.

I have been lucky enough to spend my further education and career to date following this passion, whilst trying to make the world richer in wildlife and inspiring and supporting more people to discover and connect with the amazing wildlife we have here in the UK, right on our doorsteps.

Before joining the Nottinghamshire Wildlife Trust as CEO in January 2019, I worked in the UK Office of The Wildlife Trusts, where I led on national policy issues such as farming, planning and water, our landscape scale conservation vision of Living Landscapes, and most recently on national strategic relationships with businesses and key funders. I have also worked for the Wildlife Trusts in the East of England on regional policy issues, and with Norfolk County Council and a small environmental education charity.

I'm delighted to be back in Nottinghamshire and am looking forward to bringing my skills, knowledge and passion for the cause to my work with the Nottinghamshire Wildlife Trust."
Erin McDaid – Head of Communications and Marketing
Janice Bradley MBE – Head of Nature Recovery (North)

"I am a Chartered Environmentalist and full Member of CEEM and have over two decades of experience as a professional ecologist in the public, commercial and third sectors. I lead on all of our major landscape-scale conservation programmes and have a wealth of experience in managing multi-partner projects. I am acquainted with the wildlife and habitats of the county and lead negotiations with mineral extraction organisations in regards to the restoration of sites after the cessation of commercial operations."
John Rattray - Head of Nature Recovery (South)

"I have always been a conservationist since the age of seven when I questioned my primary school teacher about why the oak tree in our play park was being cut down; I was told it was to allow room to build new houses.  Since then I have never stopped asking why we allow our planet's ecosystem to be destroyed in the name of progress. At prize giving that year I received a copy of Wayside & Woodland Trees by Herbert Edlin which I still use today. My observations then, have probably laid down the foundations for my lifetime career in land management, consultancy, forestry and conservation.

Throughout my career as a land manager working within the Commercial, Government and Charity sectors I have gained a wide and far reaching knowledge and experience in all classifications of landscapes, from the ancient woodlands and wetlands of Wiltshire with Wiltshire Wildlife Trust, to the pine forests and moorlands of Glen Prosen. I have also had the opportunity to visit and study forestry systems in Sweden and Canada. In addition, I have had the opportunity to research forest garden permaculture and wood pasture systems at The James Hutton Institute.

I have had the delight of a loving, supportive family including my wife Wilma and two grown up children: Jayne & Nik both research doctors in Science and Conservation. In addition, to all this, I still find time to enjoy travel, walking and conservation."
Phil Slocombe – Head of Business Support & Development

"I am a qualified management accountant (ACMA) who is well versed in on time / on budget delivery of infrastructure and business transformation projects. I have also worked as a Procurement Director, focused on best value through collaboration and negotiation. I am delighted to work with the Trust after a career in industry, using these skills for a more worthwhile purpose.

I am also a Trustee of Citizens Advice in Nottingham, an organisation which helps one in three of the population resolve personal challenges at some point in their lives. Partly through this connection, I appreciate the benefits to personal wellbeing that involvement with nature brings, and would like to see the widest possible involvement of people with our movement. I've recently started an MA in Philanthropic Studies, which includes an academic dimension to this mutually beneficial process of giving and receiving.

Home life with my wife is mainly taken up with horses and chickens (my wife rides, I muck out!). We've recently planted 5 acres of native woodland, which is coming along nicely. I like to note the annual spread of cowslips, which reminds me of childhood on the Somerset Levels."