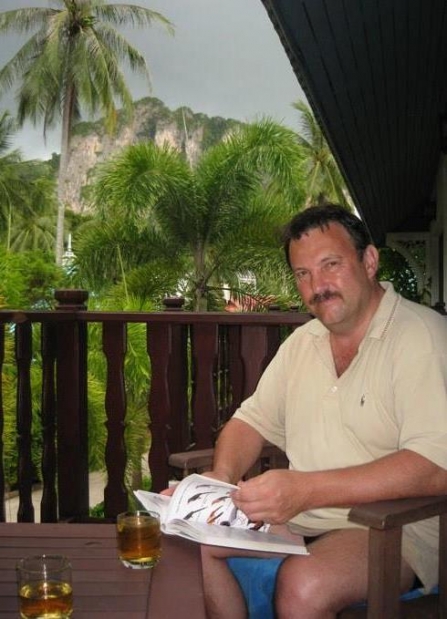 Martin 'Tids' Butler
23rd September 1961 to 26th March 2020
Chairman of the Beeston Wildlife Group
We are sad to report that Martin Butler, the popular and dedicated Chairman of the Beeston Wildlife Group has passed away after a recurrence of cancer.
Described as a local legend and affectionately known as 'Tids', Martin was passionate about sharing his love of wildlife and will be sorely missed.
Martin grew up in Beeston Rylands with Attenborough Nature Reserve and the River Trent as his playground. In those days, fresh air and exploring were the norm for youngsters. An interest in birds was stimulated by Bill Wheatley at the local Youth club; this interest never left him. Martin was surrounded by like–minded friends who were soon off around the country looking to find new species and discover new bird watching sites from Cornwall to Scotland.
Martin's involvement at Attenborough Nature Reserve started when he helped build the original Tern platform in 1982 with Sandy Aitken, Nigel Slater, Paul Stancliffe and Norman and Alan Lewis. This was one of the first in the Country, now copied by many. He then met Keith Corbett who soon had him clearing willows and rounding up Canada Geese and Swans for ringing.
Martin's association with the Beeston Wildlife Group started in 1995 through his talks on his travels and helped giving guided walks around Attenborough. He soon after joined the committee and became Chairman in 2016, with his wife Sarah the Treasurer. He brought the group into the digital age with his background and experience in telecommunications, advertising the group's activities bringing in huge audiences. He was involved with the schools project introducing wildlife to local school children. He built the planters that are outside each classroom at Rylands Infant School.
Martin met Royalty representing the Beeston Wildlife Group, when HRH Duke of Kent visited Attenborough. He wasn't fazed at all; Martin was the same person whether he was talking to Royalty or small children on a pond–dipping session. Martin oversaw 'wildlife royalty' on two special occasions when Chris Packham came to give talks to the Beeston Wildlife Group. On one of the visits Martin had the unenviable task of calmly fixing Chris's computer while the 300 strong audience patiently watched on - otherwise we wouldn't have had a show! Earlier in the day Martin was relaxed showing Chris around Attenborough, chatting as if he was an old mate, nothing seemed to worry him, he was the person you wanted around if ever there was a crisis.
Martin's passion was Pittas (brightly coloured ground dwelling jungle birds), he and Sarah travelled the world in search of them. He also loved Tigers and had very close encounters in India. He enjoyed researching his travels then coming back and sharing his adventures. He loved peoples' company and was well known for his strong opinions, which would always stimulate conversation!
When gallbladder cancer slowed him down, he installed a camera to watch his Blue Tits nesting from the comfort of his armchair and mused that it was better than anything on the TV.
Martin's wife of 31 years Sarah, will have so many memories of the adventures they had in the 45 Countries they visited together. Accompanying Martin, Sarah has seen over 400 species of bird in Britain - 'not bad for a non-birder' to quote Tim Sexton.
Martin was a larger than life character who loved showing people wildlife through guided walks at Attenborough and further afield on organised trips. Countless people will have a greater appreciation about birds and wildlife thanks to Martin's legacy.
We will miss him, but one thing is certain he will never be forgotten, not a day will pass without someone mentioning one of his quotes, mantras or stories. A life lived to the full.