Migration miles challenge
Get involved with fundraising during 30 Days Wild!
Every June the Wildlife Trusts launch 30 days wild, centred around every day wild acts that we can all do at home in our gardens or in our local area.
Now you have the opportunity to take on our Migration Miles Challenge!
The distances travelled can be as large or small as you would like. It could be a 2km daily challenge like our wild roaming hedgehogs do every night in search of food and water, or it could be totalling up over the month to complete the amazing journey our Sand Martin's do every year back from Africa in the Spring which could be 5000 miles or more!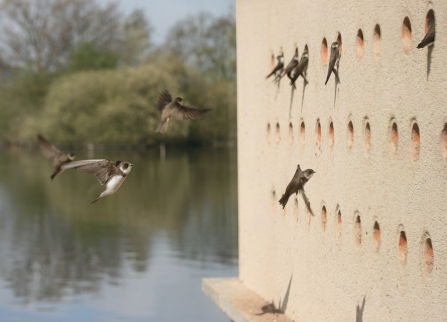 Sand Martin's migrate every year back from Africa in the Spring which could be 5000 miles or more!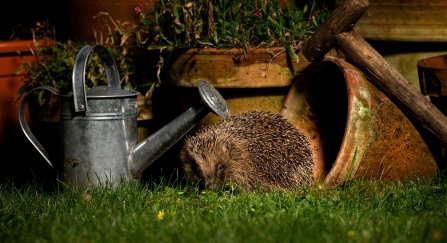 Wild roaming hedgehogs travel up to 2km each night in search of food and water
Here's how it works
1. Choose your distance
Pick a distance to aim for over the course of a month. 2km or 5,000 miles! Or maybe somewhere inbetween.
2. Record your progress
You can walk, jog, cycle or run across the month as part of your daily exercise and record your progress on social media tagging in Nottinghamshire Wildlife Trust or adding your progress on your Just Giving fundraising page to share.
3. Donate
Ask your friends and family to donate to your fundraising effort. Either by mile or kilometer or in faith of completion and support of Nottinghamshire Wildlife Trust.
Daily challenges
How about completing a virtual fundraising challenge as just one of your random acts of wildness during June?
A Bird-spotting Photo Challenge - improve your knowledge and ask people to challenge you to spot a set number of birds, once you reach the target you can ask for donations. Try our baby bird spotter sheet here or some of our other bird spotting sheets.
Plant Identification Challenge on your daily walk – Similar to the bird spotting challenge but allowing you the opportunity to appreciate the abundance of flora in your local area. There are handy spotter sheets for ID here.
Animal Yoga Challenge – complete 7 days of yoga, with as many animal related poses as you can achieve!
Wildlife Drawing Challenge – host a zoom party with your friends and family, asking for small donations towards your fundraiser and all let loose with your creativity drawing something wildlife themed.
Social media
Donate you proceeds
Looking to get the money to us? Pay in your fundraising through our donation page. It's fee free so 100% of your donation comes straight to the Trust.

We can support you
If you need any help, support or handy tips on your fundraising challenge then please email our Supporter Journey Team.
email our Supporter Journey Team
We are always happy to help, and want you to get the most out of your fundraising experience with us!