Wildlife conservation efforts reap rewards at Center Parcs Sherwood Forest
Tawny owlets and a playful litter of badger cubs represent just a fraction of the tremendous variety of wildlife that thrives at Center Parcs Sherwood Forest and the continued partnership between Center Parcs and Nottinghamshire Wildlife Trust is crucial to supporting wildlife both on site and across the wider Sherwood landscape.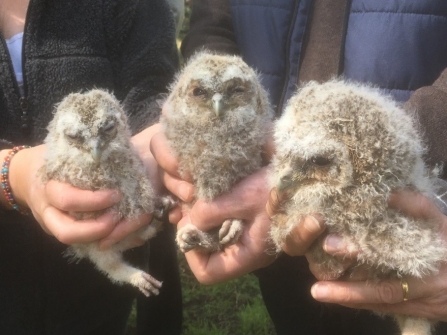 There are few places quite as magical and enchanting as Sherwood Forest. Situated in the heart of Nottinghamshire, this legendary forest supports a diverse variety of wildlife that is as impressive as its rich tapestry of heritage and folklore.  Spring 2019 was no exception with guests at Center Parcs Sherwood Forest able to witness the latest wildlife arrivals including tawny owl chicks and a lively litter of badger cubs. The hatching of the two tiny owlets back in April was captured by a special nest box camera. A few weeks later an energetic litter of five badger cubs were spotted outside their sett entrance as they explored the big wide world for the first time, under the close supervision of mum.
These recent arrivals represent just a tiny fraction of the wildlife that thrives at the village, where conservation work is led by Mike Hill, Senior Conservation Ranger, supported by the 15-strong Grounds Maintenance team. The team maintain a rich mosaic of woodland, grassland, heathland and aquatic habitats across the 400-acre site, working closely with local wildlife organisations and conservation groups to monitor key species, such as butterflies and moths and assess the health of the site's ecosytems.  One key partnership is with Nottinghamshire Wildlife Trust which Center Parcs supports as a member of their Wildlife Guardian scheme. The Trust offers advice regarding wildlife and habitat management and the company's support helps the Trust deliver work across the wider Sherwood Forest area and beyond.
Mike Hill, Senior Conservation Ranger of Center Parcs Sherwood Forest, stated, "We are delighted to continue our long-standing partnership with Nottinghamshire Wildlife Trust and share their vision for a wilder Nottinghamshire. We work closely with the Trust to enhance the special wildlife and habitats of our 400-acre site in Sherwood Forest and are thrilled to support their efforts to restore wildlife habitats across the county."
Holly McCain, Senior Development Officer at Nottinghamshire Wildlife Trust commented: "We are grateful to Center Parcs UK for their continued support as one of our long-standing Wildlife Guardian members. Their support is invaluable, enabling us to continue to protect and enhance Nottinghamshire's wildlife and habitats and to connect people with nature."
Recent Wildlife Trust activities in the Sherwood Forest area include restoring rare heathland habitats at Rainworth Heath Nature Reserve which support nationally threatened bird species such as tree pipits and initiating a new programme of wildlife walks in Sherwood Forest to showcase the unique wildlife of this ancient landscape to local people  
By booking a short break at Center Parcs Sherwood Forest, guests not only benefit from a relaxing and immersive woodland experience surrounded by wildlife, they are also supporting a wilder and brighter future for people and wildlife in Nottinghamshire.
For more information on the short breaks offered by Center Parcs, visit centerparcs.co.uk. To find out more about the work carried out by Nottinghamshire Wildlife Trust in the Sherwood area have a look at our Champions of Sherwood web pages.