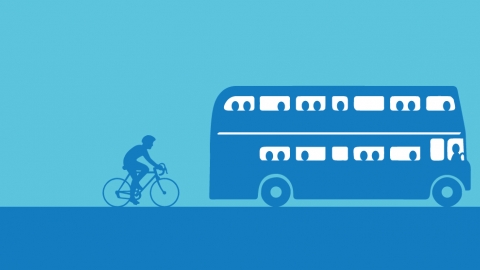 Leave the car at home and cut your environmental footprint.
It's no secret that emissions from car exhausts pollute the world around us, but do we really know the true impact excessive use of cars can have?
Vehicle emissions:
Contribute to levels of pollution and poor air quality
Contribute to climate change
Consume large amounts of raw materials
Lead to ill health such as breathing problems in people and wildlife
Reducing your vehicle emissions doesn't just reduce your pollution but can save you money too!
Making changes will:
Reduce transport costs
Reduce fuel bills
Reduce road tax costs (switching to a lower emission car)
Reduce car wear and tear
Top tips for reducing your vehicle emissions:
Where possible, use public transport – chances are they're going where you are!
Car share with colleagues and friends, or take it as an opportunity to meet new people. Popular ride sharing services include BlaBlaCar and LiftShare
Choose two wheels instead of 4! 
Take a hike – enjoy a walk instead of being sat in a car
Avoid using cars for short journeys – combine trips or use other transport
Care for your car – tyre pressure and brake upkeep can both impact the level of emissions
Drive efficiently – use higher gears and maintain a steady speed whenever possible. Avoiding heavy braking can also reduce the amount of microplastics that your tyres shed
Open the windows instead of using the air conditioning – air conditioning systems increase fuel consumption and emissions