Roger Freestone - A volunteers story
As part of National Volunteers' Week, the Nottinghamshire Wildlife Trust are celebrating the work of our volunteers with volunteer stories. We want to celebrate all their hard work as the Trust really could not achieve as much as it does without them.

Roger is just one of hundreds of valued volunteers. He regularly volunteers across a number of Trust teams including Marketing and Communications, even throughout the past year from home. He shared his experience with us: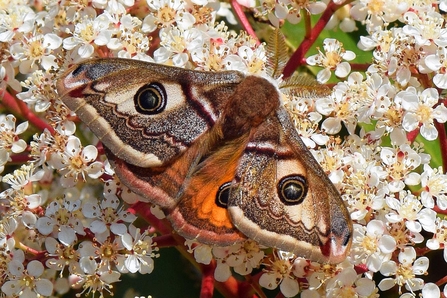 "My employer was, (and still) is a Corporate Supporter of Nottinghamshire Wildlife Trust and I was the company's prime contact with the Trust.  On taking early retirement just over 7 years ago I was given the opportunity to volunteer one day a week in the Trust's offices, primarily supporting the Communications and Business Partnership teams.  The work I do is very wide-ranging; researching potential business supporter leads, drafting press releases, editing Business Supporter newsletters, writing a weekly article for publication in the Nottingham Post, inputting biological records into the Trust's Species Record Database and much more.  I am very flexible and will give most things a go! Volunteering allows me to share my business sector knowledge as well using my analytical skills and eye for detail to support the Communications and Business Partnership teams.
Following retirement, it can feel that you are invisible and no longer contributing to society but by volunteering at the Trust I get tremendous satisfaction in the knowledge that I am doing something worthwhile and feel immensely proud to be associated with such a tremendous group of individuals who make the Trust's work happen.  I also enjoy the feeling that I am valued for my contributions. Even though I have not been able to go into the Trust's office during the last year or so, I still work remotely on the same day of the week as when I used to go into the office, which has really helped me during these recent difficult times. When in the office I really enjoy the experience of "going out to work" and the interaction with people there which I have really missed.  However, a regular weekly phone call and occasional Zoom meeting with my manager has been a good substitute, as we have a general chat as well as discussing work.  My volunteering has all the benefits of doing a satisfying job, without the stress that I often felt in my professional career!  
As a child growing up in the 1960's, I spent a lot of time playing outside in the local woods and fields; that's what kids did then!  That connection with nature has been with me since, albeit for many years due to family and work demands I was not able to immerse myself in it as I can do now.  My main natural history interest is moth recording;  I run a light trap in my garden throughout the year- I release all moths after identifying and recording.  I am the East Midlands Coordinator for the Garden Moth Scheme and I also support the Nottinghamshire County Macro Moth Recorder, Sheila Wright in compiling the annual received moth records for submission to Butterfly Conservation."