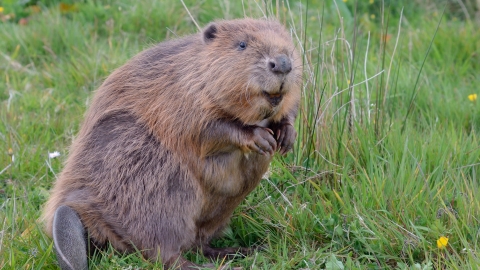 Rewilding: Have we got space?
Location:
Online Event,
Virtual
Book
What is rewilding? Have we got space? Why do we need it? Join our interactive 10 part lecture series to find out.
About the event
We hear almost daily that habitats are being destroyed, species are going extinct and people have never been more disconnected from our natural world. Whilst The Wildlife Trusts and other organisations are doing fantastic work, nature is still in decline. Much of the work we do involves traditional methods which manage or create habitats by mimicking lost native species.
For decades now, conservationists have been asking the questions: why do we need to look after the land, what happened before we were here and how can we work more efficiently for nature? There is now a push in conservation to restore functionality to our ecosystems so that, to different extents, they can look after themselves (nobody mows the grass in the Masai Mara!).
In recent years, rewilding has gone from the folly of a criticized minority, right to the top, with people like Sir David Attenborough and the UK prime minister entering the discussion! The question is no longer 'if', but 'when' and 'how'.
With big changes afoot, how can we overcome entrenched views of nature conservation methods? Do we have space for it? And can we really bring back species like Beavers, Elk and Lynxes? Is rewilding just wishful thinking or a silver bullet in the conservation toolbox?
These questions, and many more, will be addressed in "Rewilding", our series of 10 live interactive webinars, including polling and Q&A sessions.
Join the whole series by purchasing a series ticket, giving you access to all 10 webinars. Or just join us for the events that interest you most.
If you can't make one of the events, don't worry, your ticket entitles you to receive a recording of each webinar.
Booking
Price
£4.68 per lecture or £37.74 for all 10
Additional booking information
All ticket holders will receive the link to join the webinar in an email a few days before the webinar starts.
Suitable for
Families, Adults, Beginners