Donate in Memory of a loved one
Each donation made in memory is cherished by Nottinghamshire Wildlife Trust. Your gift, no matter how large or small, will help continue to protect and restore wild spaces around our county for generations to come and help us create a wilder future together.
Dedicate a Memory Leaf to a loved one at one of our Nature Reserves
When you dedicate a Memory Leaf at one of our Nature Reserves, you create a lasting tribute to a loved one while helping to protect the wildlife and wild spaces they cherished. 
The suggested minimum donation to install a personalised Memory Leaf is £200, which can be made securely online or by cheque made payable to Nottinghamshire Wildlife Trust.
Should you wish to find out more about Memory Leaves or have a question about gifts in memory of a loved one, please contact Emily via our contact form.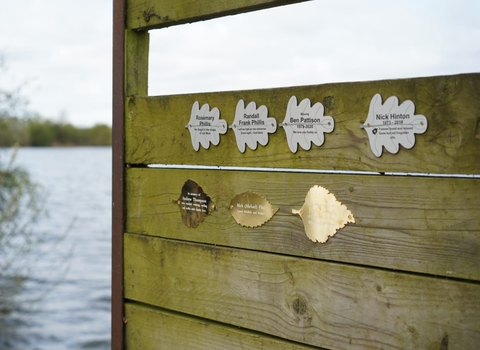 Memory Leaf
"I feel very passionate about this. I get real comfort from having this memory leaf on the bench at Attenborough Nature Centre and that it's in the lovely wildlife garden. I've made so many lovely friends at the centre I love them all and deeply respect what they do. I don't find it a sad thing at all it's comforting."
Louise Stevenson
Organise a Collection in Memory
A collection at a funeral or celebration of life is a meaningful and lasting way to pay tribute to a loved one. We are here to support you, should you have any questions or need further support. Please feel free to reach the supporter care team by email.
You can commemorate a loved one with an "In Memory" page on JustGiving, where you can share happy memories, photos and stories. Friends and family can make secure online donations on the page. It is also a great way to celebrate anniversaries and updates to remember the happy times.
Frequently Asked Questions
Can I donate through JustGiving?

Yes, just visit our JustGiving page and click on the fundraise for us button to create your tribute page. This is a great way for friends and family to remember a loved one far and wide and be able to use it as a celebration of life on birthdays and anniversaries in future too. That way the donations come straight through to the Trust and you do not have to worry about collecting them.

Alternatively, donate via our secure donation web page.
Can I donate via a funeral director?

Yes, just let your funeral directors know you would like to collect donations for Nottinghamshire Wildlife Trust and they can arrange for the collection cheque to be sent to us at our Nottingham Office and registered address made payable to Nottinghamshire Wildlife Trust.
Can I place a plaque or a bench at one of your centres?

Nottinghamshire Wildlife Trust looks after some of the most spectacular nature reserves in Nottinghamshire and people come to our centres to experience their natural beauty. The best way to create a tribute for your loved ones is through a celebratory Memory Leaf or the Book of Remembrance online.
Can I scatter ashes at one of your reserves or visitor centres?

The first consideration in any decision must be protecting our fragile wild reserves, so any requests should be put forward in writing to our CEO for consideration. However, the Trust will only permit the scattering of ashes of those individuals who have made a significant contribution to the work of Nottinghamshire Wildlife Trust.
I have collected donations in memory. How can I send them to you?

We truly appreciate your gift in memory. You can send your donation to us online here.

Alternatively, you can send a cheque made payable to Nottinghamshire Wildlife Trust, to:

Nottinghamshire Wildlife Trust,

The Old Ragged School

Brook Street

Nottingham

NG1 1EA