A gift made in memory of a loved one can be a fitting way to celebrate and remember their life, while helping us to restore wildlife across Nottinghamshire.
Memory Leaf
"I feel very passionate about this. I get real comfort from having this memory leaf on the bench at Attenborough Nature Centre and that it's in the lovely wildlife garden. I've made so many lovely friends at the centre I love them all and deeply respect what they do. I don't find it a sad thing at all it's comforting."
Louise Stevenson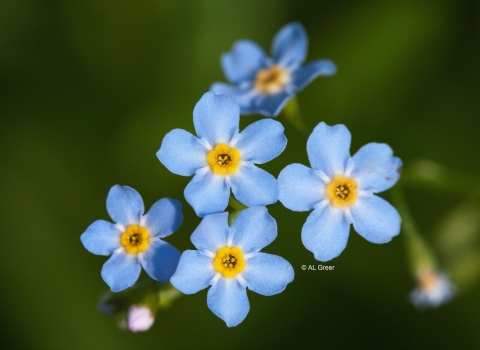 A gift in memory
Gifts made in memory of loved ones are very special to us.
If you would like to talk to us about how you can make a gift, please contact Ruth in the Supporter Care Team on 0115 958 8242. Alternatively, please read our Frequently Asked Questions below for further information.
Contact us
Frequently Asked Questions
Can I donate through JustGiving?

Yes, just visit our JustGiving page and click on the fundraise for us button to create your tribute page. This is a great way for friends and family to remember a loved one far and wide and be able to use it as a celebration of life on birthdays and anniversaries in future too. That way the donations come straight through to the Trust and you do not have to worry about collecting them.

Alternatively, donate via our fee free, secure donation web page.
Can I donate via a funeral director?

Yes, just let your funeral directors know you would like to collect donations for Nottinghamshire Wildlife Trust and they can arrange for the collection cheque to be sent to us at our Nottingham Office and registered address made payable to Nottinghamshire Wildlife Trust.
How do you honour gifts made in memory?

Any gifts in memory can be included in our Book of Remembrance. Gifts of over £199 can be honoured on one of our Memory Leaves.
Can I place a plaque or a bench at one of your centres?

Nottinghamshire Wildlife Trust looks after some of the most spectacular nature reserves in Nottinghamshire and people come to our centres to experience their natural beauty. The best way to create a tribute for your loved ones is through a celebratory Memory Leaf or the Book of Remembrance online.
Can I scatter ashes at one of your reserves or visitor centres?

The first consideration in any decision must be protecting our fragile wild reserves, so any requests should be put forward in writing to our CEO for consideration. However, the Trust will only permit the scattering of ashes of those individuals who have made a significant contribution to the work of Nottinghamshire Wildlife Trust.