Anti-social behaviour won't derail commitment to restoring key areas in Sherwood Forest
Nottinghamshire Wildlife Trust has today spoken of its frustration after significant damage was caused to wildlife habitats at Strawberry Hill Heath Nature Reserve between Sherwood Forest Golf Club and Ratcher Hill Quarry last week.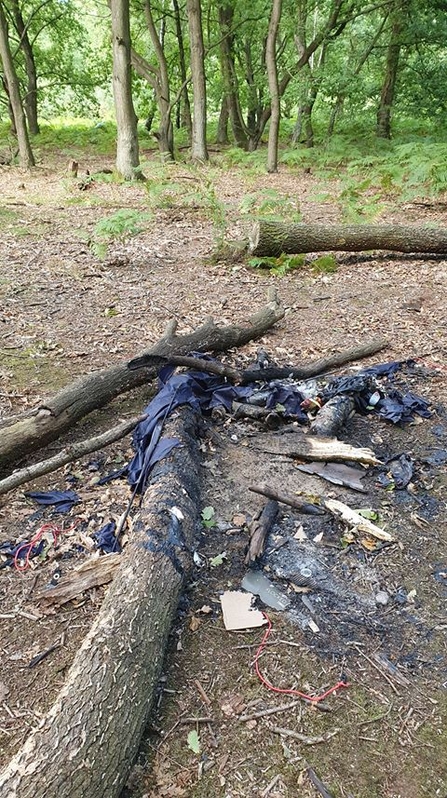 Fire damage at Strawberry Hill Heath
Late on Thursday the charity received reports of antisocial behaviour including fires, illegal use of 4x4 vehicles and trees being stripped of their bark at the reserve which is a fragment of the ancient Sherwood Forest and designated as a Site of Special Scientific Interest due to its value for wildlife.
The reserve is directly adjacent to and connected to a series of important woodlands and heathlands including Rainworth Heath Nature Reserve (SSSI), also cared for by the Trust, in a unique area bounded by Mansfield, Rainworth and Clipstone. This area has long been the focus of Nottinghamshire Wildlife Trust's efforts to restore and reconnect fragments of Sherwood Forest Habitat and the charity works closely with a number of the landowners in the area including Harworth Group – which it is supporting to deliver the county's largest ever heathland restoration programme at the former Rufford Colliery site.
Sadly, long term efforts to restore key parts of the Sherwood Forest landscape have been set against a backdrop of incidents such as the one reported to us last Thursday.
Head of Communications Erin McDaid explained: "On Thursday we had reports of fires, damage to trees including 'ring barking' litter and broken glass, discarded camping kit and significant damage caused by 4x4 vehicles at Strawberry Hill Heath Nature reserve. This is hugely frustrating at a time when our ranger team is extremely stretched and our volunteer programme is only just restating following lockdown restrictions.
We had reports of fires, damage to trees including 'ring barking' litter and broken glass, discarded camping kit and significant damage caused by 4x4 vehicles at Strawberry Hill Heath Nature reserve.

Nottinghamshire Wildlife Trust
The area has a history of anti-social behaviour, particularly relating to the illegal use of 4x4s and off road motorbikes but the Wildlife Trust is determined to push on with vital work to protect, restore and reconnect key parts of Sherwood Forest. This area is one of the largest areas of connected greenspace in the county with massive potential for habitat restoration and opportunities for people to connect with nature.
Erin added: "Our efforts alongside neighbouring landowners and Nottinghamshire Police have had a big impact on reducing antisocial behaviour in recent years but we do seem to have seen a spike since lockdown restrictions were brought in. It's especially upsetting as our team have worked hard to keep our reserves open to visitors throughout lockdown but together with our partners we are making real headway with restoring large parts of Sherwood Forest and we will not be knocked off course by thoughtless vandals. Sherwood Forest is of international importance and we're determined to ensure that full potential of this area is realised for both wildlife and people."
The Wildlife Trust has a small ranger team covering the county and its northern rangers are responsible for sites covering hundreds of hectares across dozens of sites. They rely on the support of volunteers for support to carry out much vital management work and the charity's volunteer wardening and conservation programmes were paused during lockdown to keep people safe.
Erin added: "Whilst we have now resumed some volunteering sessions our rangers are still dealing with a backlog of work across our reserves and our focus at this time of year is on managing wild flower meadows and keeping paths open for visitors, so the added work due to vandalism is a real blow and damage to paths caused by 4x4s is not easily repaired"
The Trust has asked local people to continue acting as its eyes and ears and to report any criminal activity on nature reserves directly to the police.