Knitted wildlife and drinking beer to support Nottinghamshire Wildlife Trust?
What's the common thread? Castle Rock Brewery of course! Thanks to customers at the Robin Hood Beer Festival 2019, supporters of the real ale raised £125.45 by making donations for knitted wildlife kindly made by Nottinghamshire Wildlife Trusts many talented members and supporters.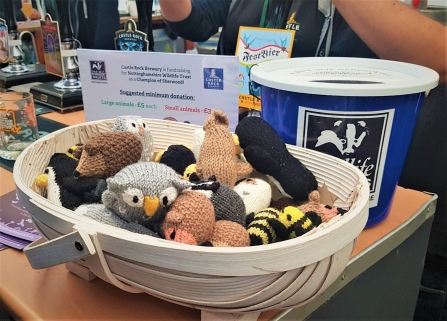 Castle Rock truly are a Champion of Sherwood with the sales of one of their core beers, their Sherwood Reserve ale, helping to support the Trusts work in the Sherwood Forest area too, restoring wildlife habitats such as heathland to support returning rare birds like the nightjar.
We are delighted to continue supporting Nottinghamshire Wildlife Trust as it is such an established relationship since we started back in 2001. We got creative and practical with our pollinator friendly planters and hanging baskets around our pubs this summer which were a delight and an easy way for the Brewery to enhance their own public spaces as well as to help get the message across and inspire customers to easily do the same at home. We are looking forward to planning our 20th Anniversary too, but let's look forward to this year first!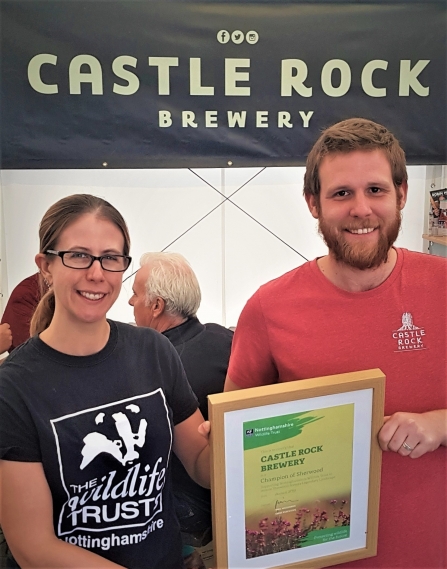 Holly McCain of Nottinghamshire Wildlife Trust presenting Lewis Townsend, Head of Marketing at Castle Rock Brewery with their Champions of Sherwood certificate.
Erin McDaid, Head of Communications and Marketing at Nottinghamshire Wildlife Trust said: "Castle Rock have always been a delight to work with, and not just for the obvious! It has been a collaborative relationship with the recent beer festival a highlight providing some additional visibility for the partnership. Even if all the knitted wildlife had all gone by the middle of Friday as they were so popular!"
For more information about Nottinghamshire Wildlife Trusts' Business Partnerships click here or ask for Holly McCain on 0115 958 8242.