The life and good works of Tom Huggon, the Nottingham based lawyer and reformer, is to be honoured in ale with the brewing of a namesake beer by Castle Rock Brewery.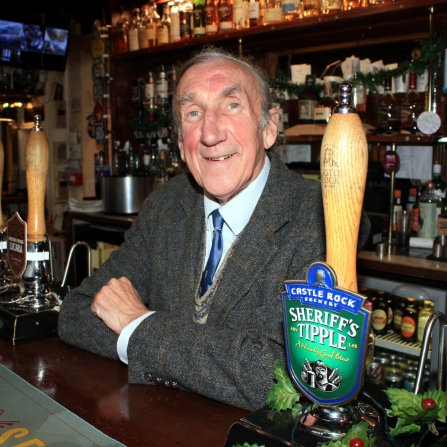 'Tom Huggon', a 4.2 per cent abv English hopped pale ale, is the first to be brewed in 2020 to honour the life and works of native and adopted sons and daughters of Nottingham.  It will be the 38th in the series which began a decade ago with 'Alan Sillitoe'.
Tom, a native of Burnley, came to the city fifty years ago as a newly qualified solicitor to work at what became Browne Jacobson.  He says: "I felt at home immediately, and though I intended to stay for only a couple of years, I was made a partner in the firm in 1972.   I was 24; and decided to stay."
Over the past half century Tom has become a leading figure in the law, the arts and wildlife conservation. 
One of his early passions was the preservation of Nottingham's built environment.  To further this, he joined Nottingham Civic Society in 1970 and went on to become its president, a role he holds to this day.  His interests in the natural world within the Nottinghamshire Wildlife Trust has seen him become warden at Attenborough Nature Reserve, chairman and nowadays executive vice president. 
Tom reflects on his love of theatre: "In 1970, I was privileged to be in the audience at Jonathan Miller's production of King Lear at Nottingham Playhouse.  With a cast that included Michael Hordern and Frank Middlemass, it was no wonder I became a devotee, going on later to become chairman of the board.
"I remain a champion of Nottingham's open spaces, Green's Mill and, oh yeah, thanks to my vocal abilities, I am the city's honorary town crier.
"All this pales into nothing compared to my appointment in 2004 as a Deputy Lieutenant of Nottinghamshire," he says.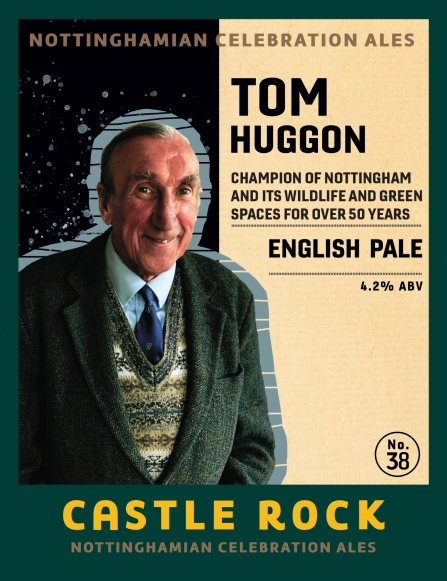 And now I have a beer.

Nottinghamshire Wildlife Trust
"This is something for us all, for people like me, a lifelong member of CAMRA, for newcomers to real ale and to the many regulars at pubs across Nottingham."
'Tom Huggon' ale will be available in pubs in Nottingham and the East Midlands from mid January until stocks run out.