Long term habitat restoration at key Sherwood Forest nature reserve gets underway thanks to partnership support
Work to restore an area of traditional lowland heathland habitat at Nottinghamshire Wildlife Trust's Rainworth Heath SSSI Reserve is underway thanks to funding through the Miner2Major Landscape Partnership Scheme backed by the National Lottery Heritage Fund.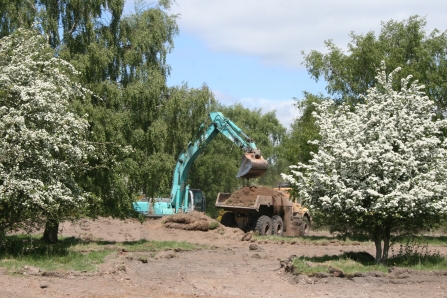 The scheme, which is managed by Nottinghamshire County Council, brings together a range of partners to deliver a range of habitat and heritage project across the Sherwood Forest landscape and last week, work to restore heathland at the Wildlife Trust's Rainworth Heath got underway.
For many years the Trust, a registered charity, had wanted to restore the site of an old farmstead within the nature reserve to heathland but had struggled due to the level of nutrient enrichment in the soils.
Now thanks to support from the Miner2Major scheme and help from neighbours and long-term partners Harworth Group, the soil has been stripped from the site by Haworth's Operations team ready for the next phase of re-seeding, after careful checks for breeding birds and reptiles.
Speaking about the project Nottinghamshire Wildlife Trust's Head of Conservation Janice Bradley said: "Rainworth Heath is one of the last fragments of Sherwood Forest Heathland and we're delighted that through our involvement in the Miner 2 Major partnership and our relationship with Harworth, the work is well underway. Having worked closely with the team from Harworth to restore heathland on both the neighbouring former Rufford Colliery site and their regeneration of the former Thoresby Colliery site, they have the machinery and expertise to carry out this work sensitively and effectively through this additional funding to reduce any disturbance to wildlife."
Now the soils have been stripped the Trust is preparing to sow an acid grassland seed mix which will act as a nurse crop for heather over the next couple of years.
Mrs Bradley added: "Thanks to the Miner2Major Scheme a number of exciting habitat restoration projects have now had the green light across Sherwood Forest. Here at Rainworth Heath, a Site of Special Scientific Interest, its particularly exciting to be using the techniques developed and perfected with the Harworth team on their sites on our own nature reserve, a clear benefit of our long-term partnership together."
Steve Little, Miner2Major Scheme Manager, said:
Thanks to National Lottery players Miner2Major is able to support this valuable work to restore the heathland habitats of Sherwood Forest that are such a valuable asset to the area and to the many species they are home to.
As part of the wider Miner2Major project delivery Nottinghamshire Wildlife Trust is currently conducting a range of wildlife survey work across a number of sites and working to build a new volunteer group to work across the project area. Anyone wishing to get involved should contact Jamie Shortland via email. 
For more information about the Miner2Major project head over to the project webpage.