The Wildlife Trusts appeal to people's love of nature following last weekend's wildfires, vandalism, littering and disturbance to wildlife.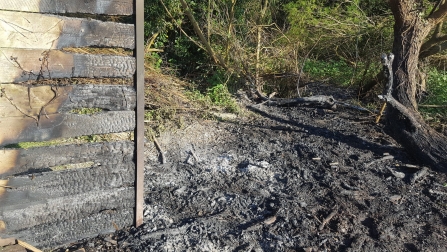 Fire damage of a viewing screen and surrounding habitat at Attenborough Nature Reserve during lockdown.
Thousands of people have enjoyed and sought solace in beautiful countryside and stunning Wildlife Trust nature reserves over the last few weeks. But these places and other attractive beauty spots have taken a battering as the lifting of some lockdown rules coincides with warmer weather leading to a surge of people outdoors.
As a result, The Wildlife Trusts – a movement of 46 nature charities across the UK – are reporting a huge increase of damage to reserves and the wildlife that lives there. These include:
Portable BBQs have caused devastating fires across wild areas
Ground-nesting birds eggs and rare plants have been disturbed and trampled by people and dogs
Antisocial behaviour – including littering, using wild places as outdoor toilets and vandalism have been widely reported
Some Wildlife Trusts are describing antisocial behaviour on site, including abuse directed towards their staff as the worst they have ever known.  The Wildlife Trusts have struggled to cope with the scale of the problems because many staff are furloughed.
Craig Bennett, CEO of The Wildlife Trusts, says:
"We have thousands of nature reserves which are vital local havens for people and wildlife; they are wonderful places to have fun with family and friends to walk, rest and enjoy nature. Our natural heritage is priceless and so important for us all – for our health and happiness – but it is fragile."
We're appealing to everyone to love and look after it. Everyone is welcome as long as they respect our wild places, other visitors and people who work there.
The Wildlife Trusts are asking everyone to love and look after wildlife and wild places by:
Avoid BBQs and fires
Take all your litter home
Keep dogs on leads and pick up dog mess
Park considerately
Cafes and toilets are shut – so limit the length of your visit!
Smile at our staff and volunteers – we're here to help you enjoy your visit!
Nottinghamshire Wildlife Trust sites were also badly affected and the charity has spoken of its shock at the level of anti-social behaviour since the easing of lockdown restrictions.
The charity, which cares for dozens of nature reserves across Nottinghamshire which include some of the county's rarest wildlife habitats, has experienced an unprecedented surge in anti-social behavior ranging from littering and fires to vandalism.
Speaking about the issue, Southern Reserves Manager Chris Kennedy said:
In the past three months it seems like we've experienced a whole year's worth of anti-social behavior and we're struggling to cope with the impact.

Nottinghamshire Wildlife Trust
Incidents include fires at least three sites; Besthorpe Nature Reserve north of Newark, Idle Valley Nature Reserve near Retford and Attenborough Nature Reserve near Nottingham, the destruction of a brick wall at Skylarks Nature Reserve at Home Pierrepoint and bat roosting boxes being knocked from trees at Bunny Wood Nature Reserve.
The fire at Idle Valley is believed to have been caused by unauthorized campers and damaged the woodland floor across an area of half an acre whilst the fire at Besthorpe is thought to have been started deliberately as large quantities of fallen timber and debris washed up by floods earlier in the year had been collected and piled up. The cause of the fire at Attenborough is not known but occurred worrying close to a wooden bird hide, which would have cost thousands of pounds to replace if the fire had spread.
At one site visitors had parked in front of gate barriers making it difficult for the team to access essential machinery.
Mr Kennedy added: "The problems have definitely increased since the lockdown was eased and it's making our job of making sure our sites are open and safe for everyone to enjoy very difficult. The impact of the lockdown and the need for social distancing measures means that we are already extremely busy trying to get on top of a backlog of work such as opening up paths, so the added work due to anti-social behavior is the last thing we need. However, the reaction and feedback we've had from responsible visitors makes all our effort worthwhile. We've even had people doing their own litter picks which is a massive help as we don't currently have a full team and our volunteer programme is still suspended."
Nottinghamshire Wildlife Trust is urging visitors who witness antisocial behavior to report incidents to the police on the non-emergency 101 number and any fires should be reported to the Fire brigade via 999. Routine issues on its nature reserves should be reported via info@nottswt.co.uk
Examples of issues experienced across Wildlife Trust sit elsewhere in the UK include:
Wildfires have devastated huge swathes of South Pennines Moorland leading to hundreds of people concerned about the wildlife contacting Lancashire Wildlife Trust. BBQ use has been common across reserves, with many being blamed for causing damage to rare habitat. 
Lancashire Wildlife Trust reported a lapwing and its chicks was savaged by a dog. There is an increase in dog mess across many reserves.
Many Trusts have reported an increase in visitor numbers, littering and a breakdown of social distancing rules. 
Many reserves including Cholsey Marsh have reported increased vehicles and irresponsible parking affecting local communities. Some communities and people living near reserves have also experienced harassment from visitors.
Essex, Hampshire and Herefordshire Wildlife Trusts have seen an increase in dangerous and prohibited activities at reserves including swimming in reservoirs and lakes where the water is too cold to swim safely. 
Many areas are also reporting signs about Covid-19 and social distancing have been slashed and torn down, locked bird hides forced open, fencing removed and rules around respecting wildlife and nesting birds ignored.