New hope for popular peregrine family
New hope for popular peregrine family after unusually long wait for a chick comes to an end.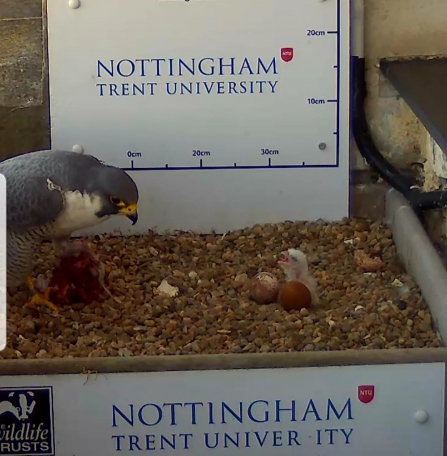 A popular wildlife web cam at Nottingham Trent University, in the heart of the city centre, is proving hugely popular during the country's lock down.
Nottinghamshire Wildlife Trust has today spoken of its relief that a chick has been spotted in the nest of a peregrine falcon family it monitors in partnership with Nottingham Trent University. The nest, on the University's Newton Building in Nottingham city centre is covered by a webcam which has been receiving an extraordinary numbers of views during lockdown, as people seek out a connection with wildlife whilst staying at home.
It was feared that the peregrine pair may suffer a barren year after an egg laid on March 16th failed to hatch within the usual timeframe, but new hope arrived when the female unexpectedly laid two further eggs in early April after an unusually long delay.
Web cam viewers had been predicting if and when any of the eggs would hatch, with some hoping for a chick to coincide with the VE Day Anniversary Celebrations planned for Friday. However, an excited member of the Wildlife Trust Communications Team spotted what she thought might be a chick on Wednesday afternoon before managing to capture a short video clip to confirm the good news.  
Speaking on behalf of Nottinghamshire Wildlife Trust, Head of Communications Erin McDaid, said:
This pair certainly know how to put us through the emotional wringer. After the first egg failed to hatch on time we thought we were unlikely to see any chicks this year, but the arrival of the second and third eggs gave us hope. The numbers of people watching the camera so far during lockdown have been amazing - so who knows what will happen now we actually have a chick!

Nottinghamshire Wildlife Trust
Speaking on behalf of Nottingham Trent University (NTU) Sustainable Development Manager Charmaine Morrell said:
We're absolutely delighted to have a chick in the nest and whilst it's sad that we're not on campus, it's fantastic that along with viewers from around the world, NTU staff and students can all watch its progress via the webcam.

Nottingham Trent University
A webcam was originally installed purely as a security measure on advice from Nottinghamshire Wildlife Trust to the University more than a decade ago but subsequent improvements in technology meant that the feed could be shared over the internet.
Viewing figures for April had already beaten last season's high and the arrival of the chick is expected to push the numbers viewing even higher.
Erin added: "The camera has always been popular, but this year the lockdown means that many more people are turning to webcams in their efforts to retain a connection with nature."
The web cam can be accessed via the Nottingham Trent University website, to where it is housed on the Nottinghamshire Wildlife Trust's site.