Solo falcon chick connects thousands with nature during lockdown
Huge upsurge in webcam views from March to May and interest continues as chick begins to stretch its wings.
The travails and triumphs played out on a webcam featuring a city centre peregrine nest in Nottingham. The nest, on Nottingham Trent University's Newton Building, has been monitored in partnership with Nottinghamshire Wildlife Trust for over a decade but the lockdown period has seen web traffic soar.
This year's ups and downs have sparked everything from surprise at the fact the first egg laid was not going to hatch to the delight at the arrival of the first chick and sadness when the third egg became damaged and was abandoned. The resulting solo chick, nicknamed 'Locky' by some regular cam viewers has been observed by a huge number of people seeking out a connection with nature during lockdown.
The viewing figures for March surpassed the high point for the whole of 2019 before a chick had hatched, and the figures for May, as the chick grew strong due to the undivided attention of its parents, were up 460% on last year, with in excess of 180,000 views during the month – with high levels of interested expected to continue this month.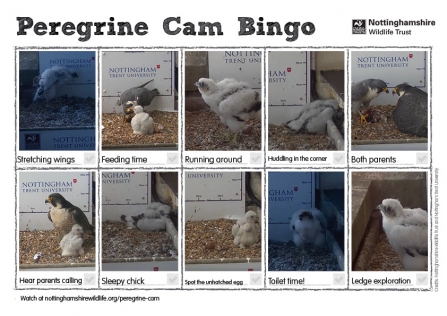 Now as part of the Wildlife Trust's 30 Days Wild challenge, regular viewers are trying their hand at Peregrine Falcon Bingo as they try to spot a range of behaviours and poses in the nest before the chick fledges.
The web cam can be viewed 24/7 online.