There's no idling for two of a set of triplets!
Nottinghamshire Wildlife Trust is pleased with the success of its Young Rangers programme at Idle Valley Nature Reserve near Retford and keen to expand the group - which now includes two of a set of triplets.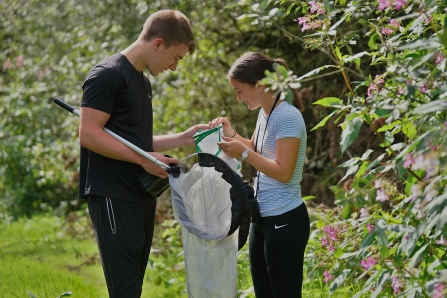 James and Georgia White, Young Rangers on their butterfly hunt recently at Idle Valley Nature Reserve.
The group, for young people aged between 13 and 18 years old, welcomed Georgia and James White to its recent butterfly themed session. Georgia and James are two of a set of triplets registered on the programme. Georgia White was the very first Young Ranger at Idle Valley and it was her brother James' first session.
Supported by Ranger Charleen Case, they spotted, caught and identified a number of species, later releasing them back where they were found. In total nine species were identified including meadow brown, gatekeeper, common blue, speckled wood, red admiral and small skipper. The group also saw lots of dragonflies and damselfly and identified banded demoiselle and a common blue damselfly.
What I love about the Young Rangers programme is that it allows me to have physical experience in a career that I hope to have in the future. Also, currently applying for Ecology and Conservation Biology at university, the sessions allow me to gain skills that will enable me to stand out in my application." She continued, "This month's session involved catching and identifying butterflies, although challenging, I caught three butterflies and had lots of fun!

Nottinghamshire Wildlife Trust
The Trust is looking for more young people to join them and the rest of the group and work as a team. The charity welcomes people that are looking to collect hours for their Duke of Edinburgh award, and like Georgia, who are looking to study an ecology or conservation course at university and are keen to demonstrate practical and volunteer experience.
Speaking about the Young Rangers Sessions Nottinghamshire Wildlife Trust's Head of Communications Said: "Thanks to the support of players of People's Postcode Lottery we've been able to set up and pilot the Young Rangers programme at Idle Valley and it's been a great success so far. We currently run sessions on the first Sunday of the month but if more young people register we'd be delighted to explore the possibility of running additional sessions."
For more information then please go to our Young Rangers web page.
All photos by Emma Osborne