Thousands of webcam viewers desperate to see if eggs laid by much-loved peregrine will be reared by new female
Thousands of people watching a live webcam streaming footage from a peregrine nest in Nottingham City Centre are waiting with baited breath to see if two eggs laid by a female peregrine which subsequently disappeared and is believed to have died, will hatch and be reared by a new female alongside her own eggs.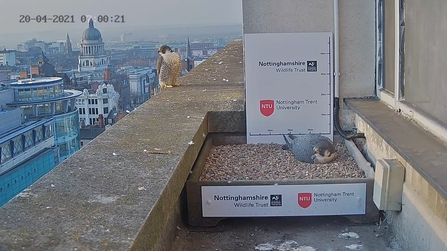 The events in the nest, perched high on Nottingham Trent University's Newton Building, generate interest year on year but the events of the past few weeks have sent viewing figures to new levels – even surpassing the huge interest generated during lockdown last year as people searched for ways to stay connected with nature whilst staying safe at home. Last year the web cam racked up 473,494 views between March and July but in March alone this year there were 487,897views.
Views could be set to soar following a string of events that have triggered mixed emotions amongst viewers. Firstly, there was the joy and excitement at seeing two eggs successfully laid by the resident female in mid-March. Then came concern as the female disappeared from view. Concern quickly turned to sorrow when a dead peregrine, believed to be the female, was discovered in Nottingham City Centre.
This sad news, and worries over the fate of the eggs and whether her partner, named Archie, would be able to rear them alone was then replaced by shock as a third peregrine began approaching the nest. Initial concerns over the safety of the eggs and the resident male was replaced with intrigue as it became apparent that the new bird was a female – and within days a feisty courtship ensued - resulting in two eggs being laid by the new female, named P9.
Under normal circumstances the original eggs would have been due to hatch any day now, but Nottinghamshire Wildlife Trust, which monitors the nest in partnership with Nottingham Trent University, believes that viewers may have to wait for the second clutch to hatch to be sure of good news.
Speaking on behalf of the Trust, Head of Communications Erin McDaid said: "Whilst there is always hope, the likelihood is that the original eggs will not hatch. Their incubation was disrupted and delayed due to the changeover in females so they are unlikely to still be viable - but this nest has thrown up surprise after surprise – so only time will tell."
...this nest has thrown up surprise after surprise

Nottinghamshire Wildlife Trust
If, as suspected, the original eggs are unviable, viewers will have at least a couple more weeks to wait to see if any eggs will hatch.
Erin added:" We know that this is the new female's first breeding season, so there's always an element of the unknown, but things are looking positive so far. Archie is an experienced male, so we have everything crossed that what's been a dramatic season so far has good news ahead, but I'm sure that if the eggs do hatch there will be even more highs and lows to come."
The Wildlife Trust has been working in partnership with Nottingham Trent University (NTU) for the past two decades to protect the nest site and high definition cameras were installed in 2012 – enabling the footage to be shared via the internet for the first time. Since the cameras were installed viewers have seen 28 chicks fledge and it is calculated that if a chick fledges successfully this season it will be the 40th to have left the nest site – a real conservation success story for this protected species.
Earlier this year the NTU team installed new cameras to ensure that viewers got the best possible views - but could not have anticipated the level of drama that would play out so early in the season.
Speaking on behalf of Nottingham Trent University, Head of Sustainability, Charmaine Morrell said: "The events that have unfolded over the past few weeks have been fascinating for so many, including myself, to watch.  Whilst we can't predict what will happen to any of the eggs, so many of us will be watching and waiting patiently to see how the new partnership with Archie and P9 works.   Here at NTU we really do hope that this year does see the 40th successful chick fledge.  We'll all have to continue to observe these beautiful birds and their journey this year to find out what happens."
Here at NTU we really do hope that this year does see the 40th successful chick fledge

Nottingham Trent University
Watch the peregrines LIVE!
The live webcam can be viewed via the button below.