Wildlife champions are world record breakers
Two world record breakers, setting a new record and raising money for wildlife at the same time.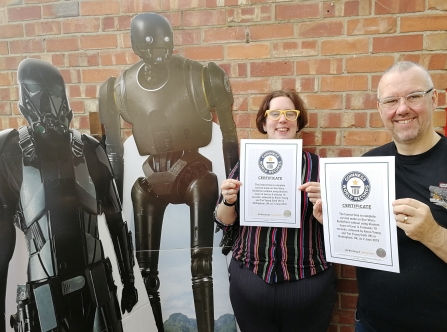 The force is strong with this father and daughter duo, who have been waiting since 2nd June 2018 to hear from Guinness World Records, to find out  if their record attempt was a success.  
We are pleased to announce that Keren and Tim have just received official confirmation from Guinness World Records that their world record attempt was successful.
The world record was to complete survival mode, without using blasters on a video game called Star Wars Battlefront. The old world record was 10 min 24 seconds which they beat by 1 min 6 seconds setting a new world record of 9 min 18 seconds.
Whilst completing the record Keren and Tim also set up a JustGiving page to raise money for Nottinghamshire Wildlife Trust, a cause, which they are both passionate about. Speaking about the fundraising Keren had this to say:
I have volunteered for Nottinghamshire Wildlife Trust for over 7 years, and so the Trust is very close to my heart. Me and my Dad also regularly visit Nottinghamshire Wildlife Trust sites and getting to raise money for this fantastic charity has been incredible and a lot of fun.
Keren and Tim have so far raised over £305 and you can still donate by visiting their JustGiving page.
This just goes to show that you can do anything to raise money to benefit wildlife and to quote Yoda "Do. Or do not. There is no try"
Speaking about the record attempt Tim says:
We are very proud of what we have achieved, with breaking the world record and being able to raise some money for Nottinghamshire Wildlife. It's amazing what you can do with a little self determination, hard work and fun.