#TheTimeIsNow virtual lobby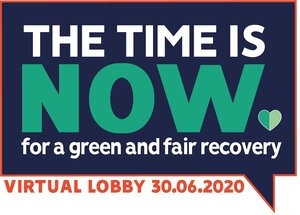 The Time Is Now virtual lobby
On Tuesday 30th June, as members of The Climate Coalition, we are supporting a virtual lobby of MPs to send a message to decision makers that we must seize the opportunity to secure and greener, healthier and fairer recovery and we'd love you to get involved.
We want MPs to hear why you care about a green and fair economic recovery.
What you say is up to you – its important that they understand why wildlife and the environment matter to you - but in broader terms we want to see world class targets for nature's recovery in the Environment Bill, investment in a Nature Recovery Network and an ambitious Agriculture Bill.
We'd also ask you to ask your MP to sign the Climate Coalition's Declaration for a Healthy, Greener, Fairer Tomorrow.
What should I ask?
We'd like you to ask your MP to show their support for a healthier, greener, fairer economic recovery from Covid-19 by: 
Putting nature on the path to recovery by setting world-leading targets for nature's restoration in the Environment Bill, delivering an ambitious Agriculture Bill and investing in a nature recovery network that will increase everyone's access to green and wild space.
Unleashing investment in climate and nature-friendly infrastructure, creating jobs and supporting millions out of the recession
Securing investment in cleaner, greener homes, public spaces and transport, creating green jobs that support millions out of the recession
Putting sustainability at the heart of future trade policy by guaranteeing in law that food imports through future trade deals don't undermine environmental, food safety and animal welfare standards in the UK.
Reducing the global impact of UK consumption by requiring companies by law to ensure the sustainability of their supply chains. Reducing our global footprint and restoring nature across the world will be a key part of building resilience against future pandemics.
Please ask your MP to sign the Climate Coalition's Declaration for a Healthy, Greener, Fairer Tomorrow – showing their commitment to bold action on nature and climate in the build-up to the United Nations climate and biodiversity conferences taking place next year. MPs can sign by emailing bethany@theclimatecoalition.org 
Further details of what to ask you MP can be found on The Climate Coalition website and also The Wildlife Trusts.