Wildlife is in Crisis
Thousands of birds, insects and other animals across Nottinghamshire and the country are finding it harder to survive. Plants and trees are under pressure too. 
The Wildlife Trusts and friends have convinced the Westminster Government of the need for a new law - An Environment Act - to improve protection for our county's wildlife.
We are calling for a Nature Recovery Network to be set in law, where wildlife and wild placed are not only protected, they are restored and connected.
How would an Environment Act help Nottinghamshire?

Improve people's access to nature, especially in towns and cities.
Create new wild areas and wildlife corridors across the country.
Keep Nottinghamshire's existing wildlife sites safe from harm.
Stop Nottinghamshire's soils washing away into rivers.
Improve air quality, especially in Nottingham.
Reduce emissions that are contributing to climate change.
Protect people's rights to a healthy natural environment.
Avoid the loss of environmental protection laws after Brexit.
What do we need the Environment Act to do?

Nature Targets: Legal targets for nature's recovery that politicians must ultimately achieve and regularly report on progress towards e.g. safer air to breathe in our cities

Nature Watchdog: An independent body to help people challenge bad decisions made by Government and councils, which have a negative impact on wildlife and our natural environment.

A Nature Recovery Network: a joined up network of habitats that provide enough space for wildlife to recover, and for people to thrive.
It's not too late to bring wildlife back
Since the story of Badger, Ratty and friends in The Wind in the Willows was written in 1908, the UK has become one of the most nature depleted nations in the world. The release of the State of Nature 2019 report shows that 1 in 7 UK species are at risk of extinction today.
We've reimagined what The Wind in the Willows might look like today in our animated trailer. Spoiler: it's not a happy story, but it doesn't have to have an unhappy ending.
What you can do to create a Wilder Future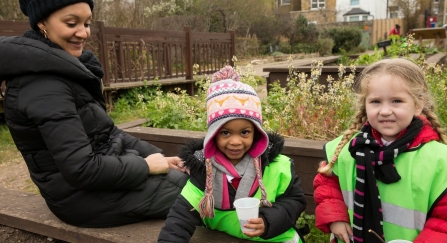 There are many ways you, your family or your place of work can help nature to recover no matter who you are or where you live. 
What we are doing to create a wilder future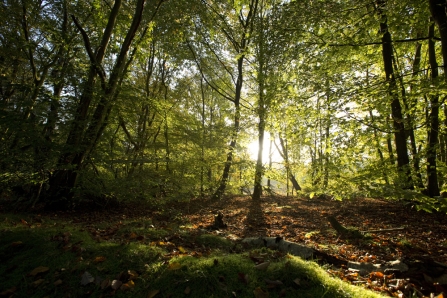 Our mission is to protect Nottinghamshire's wildlife, restore biodiversity and inspire people about the natural world. Learn more about how we plan to create a #WilderNottinghamshire.
Our vision for a Wilder Nottinghamshire

We want to see a wilder future for everyone. See our vision for a wilder Nottinghamshire in our latest document.
Attenborough Nature Reserve purchase completed December 2020

The Trust was delighted at becoming the legal owners of Attenborough Nature Reserve thanks to a £750,000 grant from Biffa Award and public backing for its Attenborough Lifeline Appeal.

Now the wildlife habitats for bittern, beared tits and kingfishers to name a few can be enhanced. Providing an amazing experience for people and wildlife alike.
Broadmarsh re-imagined Autumn 2020

Concept map of Broadmarsh by Influence

In Autumn 2020 we shared our vision for a green space to replace the derelict Broadmarsh Shopping Centre in Nottingham City.
Idle Valley Nature Reserve 2020/21 and beyond

Plans are already in place to enhance the Idle Valley Nature Reserve for nature's recovery with the support of Severn Trent Water.
Planning campaign support 2020

Nottinghamshire Wildlife Trust supported The Wildlife Trusts Planing Campaign to highlight the issues to wildlife the new proposed changes would have in the planning reforms. The public showed their support too.

The Trust shared the results of their public survey highlighting people's concern that roads and housing developments pose a real threat to nature.
HS2 - how will it affect Nottinghamshire?

Ecosystems permanently damaged. Irreplaceable habitats destroyed. Taxpayer's money spent on restoration wasted. Wildlife extinctions at a local level. This could be nature's fate if the current plans for HS2 continue.

In the most comprehensive environmental assessment to date we can reveal the sheer scale of potential damage from HS2.  Our report shows that the deep cut HS2 will make across the landscape could stop nature's recovery in its tracks. As the costs to nature escalate, we're urging the Prime Minister Boris Johnson to use his power now to stop and rethink this project, or the scar may never heal.
Wilder Woodland Gathering

Ellen Bradley

In 2019 we presented a unique event packed full of extraordinary wilder experienced to discover and enjoy.

We brought together music, poetry, art, debate and discussion under the canopy of the Skylarks woodlands. 

We were unfortunately not able to bring the same experience to life for 2020, but hope to in future years.
#TheTimeIsNow Mass Lobby - June 2019

Back in June 2019 we joined 12,000 other people in Westminster, central London, to call on our politicians to set the foundations for a brighter, greener, safer world.

All the MPs we spoke to at the lobby recognise the importance of these issues and that their constituents are passionate. They want to know that changes we want to see in policy.
Nottingham for Nature

#NottinghamforNature is a striking and uniquely creative campaign to influence policy and positive change for wildlife in our urban centre. This campaign is aimed at reaching a wide range of audiences, inspiring new opportunities, mobilising community action and influencing decision makers.

Following a collaborative approach between Nottinghamshire Wildlife Trust, political partners and young people across Nottingham City, a suite of campaign materials and a new manifesto for the city have been created. These were launched across the streets of Nottingham as part of a live #NottinghamforNature debate at the Council House in 2018 and through a range of public events.

The campaign is gaining momentum. Plans are underway for Nottinghamshire Wildlife Trust to drive positive change for wildlife across the city by encouraging partners to adopt the manifesto and through inspiring local communities to act on nature's behalf.