Ecosystems permanently damaged. Irreplaceable habitats destroyed. Taxpayer's money spent on restoration wasted. Wildlife extinctions at a local level. This could be nature's fate if the current plans for HS2 continue.
In the most comprehensive environmental assessment to date we can reveal the sheer scale of potential damage from HS2.  Our report shows that the deep cut HS2 will make across the landscape could stop nature's recovery in its tracks. 
On the 4th February 2020 The Wildlife Trusts delivered a letter signed by nearly 70,000 people to the Prime Minister at Downing Street. 
This letter calls upon Boris Johnson to use his power now to stop and rethink this project, or the scar may never heal.
Hundreds of important habitats and special wild places are under threat from the government's proposed High Speed 2 (HS2) rail network. Ancient woodland, lakes, meadows and other important habitats are at risk. Yet, there has not been a Strategic Environmental Assessment and the compensation plans being put forward are not good enough.
The Government and HS2 Ltd acknowledge that the route can't be delivered without extreme harm to the natural environment. Furthermore, the deep cut and divisive scar the route will cause along the length of England's habitats pose a genuine barrier to the urgent action required to recover nature and restore landscapes. The current approach to HS2 means that a Nature Recovery Network would be impossible.
The potential damage is too great - especially while we are facing an ecological and climate emergency. We need HS2 Ltd to stop and rethink. 
The Impact HS2 will have on Nottinghamshire
…all directly impacted by, adjacent to or within 500m of HS2's development.
In Nottinghamshire HS2 is at risk of damaging four Living Landscapes, a nature reserve which is a highly protected SSSI and loss and fragmentation of the floodplain grasslands of the Soar and Trent, a nationally important migratory flyway, which could have knock on effects for birds at Attenborough Gravel Pits SSSI.
Also, problems with inadequate mitigation; new woodland planting, ponds, hedgerows and grassland are proposed but these won't outweigh the loss of highly complex, species-rich habitats that have developed over thousands of years in most cases. A newly planted tree isn't equivalent to a mature one. These habitats cannot be replaced in a short time span and may never achieve the quality and diversity of the original habitats. Once the scale of biodiversity loss is known, much larger areas of new habitat are required for adequate mitigation (and even then, over a long timescale).
There are also concerns over great crested newts, white-clawed crayfish, grass snake and barn owls.
Bogs Farm Quarry Nature Reserve

Bogs Farm Quarry is a Nottinghamshire Wildlife Trust nature reserve and a Special Site of Scientific Interest (SSSI). There has been no assessment made of the impacts on air quality, light levels and noise pollution that HS2 will have on the wildlife here.
Attenborough Gravel Pits SSSI

HS2 is at risk of damaging nearby floodplain grasslands of the rivers Soar and Trent, a nationally important migratory flyway for birds. This could have knock on effect for the birds at nearby Attenborough Gravel Pits SSSI.

There are also serious potential impacts on bat populations including the very rare Nathusius' Pipistrelle which have use the Trent Valley and have been found at Attenborough Nature Reserve.

Nathusius' Pipistrelle (Pipistrellus nathusii). Orphan hand-raised by Kent Bat Group member Hazel Ryan. Kent, UK - Terry Whittaker/2020VISION
Reptiles and Amphibians

Great Crested Newts

19 bodies of water with Great Crested Newts present are under threat in Nottinghamshire if HS2 goes ahead as currently planned. Habitats supporting breeding populations in Strelley are at risk.

Great Crested Newts are the UK's largest newt species and are protected species under the Wildlife and Countryside Act 1981.

Danny Green/2020VISION

Grass Snakes

Floodplain habitat in the Erewash Valley would be devastated by the proposed route, including areas of high importance for grass snakes in Nottinghamshire and Derbyshire.

Tom Marshall

Toads

The loss of many ponds will impact common toad populations in Nottinghamshire. The toad population at the Strelley Hall Local Wildlife Site are likely to be affected. 
Birds

In Nottinghamshire, the loss and fragmentation of the floodplain grasslands of the Soar and Trent is likely to impact resident wildfowl and wading birds who use this extensive ecological network for feeding, loafing and roosting.

At present, Phase 2 plans do not include specific mitigation for many impacts to birds, particularly farmland and wetland bird assemblages, despite identification by HS2 Ltd of county-scale impacts. The most recent population data available from the British Trust for Ornithology (BTO) should be taken into consideration to value populations correctly. Where the proposed scheme is likely to impact >1% of the county population there will be significant impacts at a county level. This has not been considered adequately for Phase 2a, nor Phase 2b. Off-site (off-route) compensation habitat will be required as it is unlikely that sufficiently large areas of land for mitigation for impacts to ground-nesting farmland birds or overwintering birds can be secured within the confines of the route.
Inappropriate Mitigation

There are numerous examples identified by the Wildlife Trusts of inappropriate mitigation being proposed. In Nottinghamshire, wetland and grassland habitat creation are proposed as mitigation in areas of remaining Local Wildlife Sites where those habitats already exist, and therefore deliver no additional mitigation or compensation. Areas of woodland creation are proposed on existing grasslands of high biodiversity value.

Emma Bradshaw
Off Route Effect

A number of off-route effects cause concern:

Adverse impacts of further works required to the conventional rail network to accommodate growing demand for passenger and freight services, and HS2;
Biodiversity impact of replacement dwellings for those destroyed along the route of HS2; and
Land-take and habitat loss for power units, compounds and access roads.

Nottinghamshire Wildlife Trust has raised concerns with HS2 that no consideration has been given to the additional land that will be required to replace the 220+ homes currently due to be lost in Nottinghamshire and Derbyshire.

Given the existing pressure on land for housing and development it is extremely likely that the replacement of these properties will result in the loss of additional greenspace and potentially key wildlife habitats. If, as we understand it, this issued hasn't been considered along the length of the route this could affect a considerable additional area of land. – underlining our view that the new report highlights the minimum impact on wildlife habitats/species.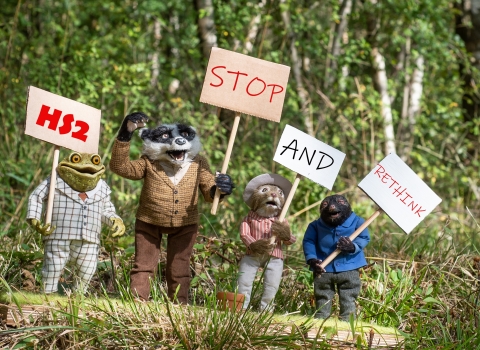 What is a Site of Special Scientific Interest? (SSSI)

Sites of Special Scientific Interest are protected through the Countryside & Rights of Way Act (2000), designated nationally for their special interest due to their flora, fauna, geological, geomorphological or physiographical features. SSSIs form a national network of sites that also underpin sites designated to meet international obligations (e.g. Ramsar Sites and Special Areas of Conservation). All National Nature Reserves (NNRs) are notified as SSSIs. In England, NNRs are designated by Natural England under the Wildlife and Countryside Act 1981, as amended.
What is a Local Nature Reserve? (LNR)

Local Nature Reserves are statutory sites containing special interest within the administrative area of a local authority for their flora, fauna, geological or physiographical features, and which are managed for the purpose of their preservation or for providing opportunities for related study and research. They are also recognised as important places for the public enjoyment of nature.
What is a Local Wildlife Site? (LWS)

Local Wildlife Sites are defined areas, identified and selected locally for their substantive nature conservation value, based on important, distinctive and threatened habitats and species with a national, regional and local context. Together with the statutory sites (SSSIs), they form the essential building blocks of a Nature Recovery Network. Local Wildlife Sites are recognised in national planning policy, which sets out requirements for their protection through local policy and plans. LWS may contain habitats of national value which have not been designated as SSSIs, as the SSSI suite is representative, but not comprehensive.
About Bogs Farm Quarry

Disused sand quarry owned by Nottinghamshire Wildlife Trust (purchased from British Coal in 1996).  It is a Site of Scientific Interest (SSSI).

There is no public access to this Nature Reserve.

The majority of the reserve comprises a former quarry in sands and clays of glacial origin.  It has been allowed to colonise naturally. 

Base-rich seepages on the slopes of the quarry support a range of interesting species such as marsh orchids.  The drier grassland on the steep slopes also contains a wide range of flowers and grasses, including the attractive quaking grass a close relative of the ornamental grass often used in flower arranging.

More interesting vegetation occurs in and around the floor of the quarry, whilst the edges are characterised by scrub, most of which is hawthorn.  Next to the quarry is fine example of species rich pasture characteristic of grassland developed on somewhat acid, loamy soils. Typical species here include harebell, betony and lady's bedstraw.

Birds such as sparrow hawk and kestrel visit the site, and berries provided by the scrub in autumn and winter regularly attract fieldfare and redwing.  The flowery grassland sheltered by scrub and steep slopes supports a wide range of insects and other invertebrates.  Amphibians such as the common frog enjoy the marshy conditions on the quarry floor.

Regeneration of the quarry site has been highly successful and varied.  Nowadays, however the range and type of species recorded would unlikely to occur in similar circumstances (e.g. regeneration on a gravel quarry or pit tip) due to isolation of the site from old grasslands by the surrounding intensively farmed area.  Bogs Farm Quarry therefor is of particular interest because it forms a biological time capsule isolated in a modern landscape.