Attenborough Nature Reserve
If you've ever visited Attenborough Nature Reserve we're sure you'll understand why this is such a special place to so many people. Whether you're there to watch wildlife, walk the dog, cycle, run, catch up over a cuppa or discover and learn new things, there is something for everyone.
We want to share the stories that make Attenborough Nature Reserve amazing for people and wildlife and why we are looking to raise £1 million to purchase and care for the site for generations to come.
If you want to share your story with us get in touch by email via the button below or share directly on social media tagging us in – Facebook @Nottinghamshirewildilfetrust, Twitter @Nottswildlife, and Instagram @nottnghamshirewildlife.
Can you provide a lifeline for Attenborough Nature Reserve?
Help us raise £1 million to purchase Attenborough Nature Reserve and look after its precious habitats and species
My Attenborough Stories
Here are just a few of the many personal stories highlighting why Attenborough Nature Reserve means so much to so many people.
Sir David Attenborough

Everyone needs a lifeline to the natural world and that's exactly what you'll find here at Attenborough Nature Reserve.

As our towns and cities become larger, finding places where wildlife flourishes has become harder, but here, at Attenborough, wildlife is all around you. My father and grandfather were both born nearby, hence the family name, and I was invited to open both the nature reserve and the visitor centre. Since my first visit back in 1966, Attenborough has developed into one of the most important wildlife sites in the east midlands. Attenborough Nature Reserve is undoubtedly an unforgettable place to experience the natural world and the Nottinghamshire Wildlife Trust play a very important part in protecting it and I would encourage anyone who cares about wildlife to support them.

- Sir David Attenborough

President Emeritus, The Wildlife Trusts

London Wildlife Trust, Penny Dixie
Sir Paul Smith

From what I can remember the area now used by the Nottinghamshire Wildlife Trust was previously used as gravel pits. Given the history, it's such a great use of the land and it's really established itself as world-class nature reserve.

The work done by the Trust and its volunteers is fantastic and I wish them every success with the Attenborough Lifeline Appeal to ensure it can be enjoyed by many people for generations to come.

- Sir Paul Smith
Sat Bains

The Attenborough Nature reserve is a very special part of Nottingham's wildlife. I am proud to support such a unique centre for wildlife which is enjoyed by so many, young and old. The work done by the Nottingham Wildlife Trust is second to none, maintaining this beautiful part of our City.

- Sat Bains

Amanda and Sat Bains
Baroness Tina Stowell (of Beeston)

Among the things I took for granted growing up in Beeston Rylands was living next door to Attenborough Nature Reserve and its beautiful birds.

 

Thankfully, others didn't take it for granted and – because of the Nottinghamshire Wildlife Trust, the hard work of its volunteers, and the support of CEMEX – this special place has thrived and become world-renowned. The whole area can be proud of Attenborough Nature Reserve and all it has achieved over the last 50 years.  And I hope it maintains its status as a great destination for all those who want to see, enjoy and  learn about the wildlife who make it their home by the virtue of nature alone.

- Baroness Tina Stowell (of Beeston)
Sir Martyn Poliakoff

As residents of Beeston, I and my family have been visiting Attenborough and watching it evolve for nearly 40 years. It is a wonderful place and I am delighted and honoured to be able to contribute to making the Reserve an even better place for future generations.

- Sir Martyn Poliakoff

Sir Martyn Poliakoff (right) with Ian Johnston
Izzy Taylor

"So - my mum, uncle and grandparents moved to Attenborough in 1964 and watched as the local gravel pits transformed into a flourishing nature reserve. My mum (aged 10) vividly remembers David Attenborough declaring the reserve open in 1966 at the local village hall, and my grandparents spent much of their time there in the following years as a pair of keen birders. I think the reserve provided a really important haven for them, and I'm sure the same can be said for others in the community. After my grandparents passed away, my uncle and mum arranged for a donation to be made in their memory. This helped to fund the building of a new bird hide, allowing others to enjoy the geese, herons and goldeneyes just as they did. Their names - Ray and Hazel Horsley - are now on a plaque in the hide. Our family no longer live in the area but my mum and I visited the reserve in the summer of 2017, and I distinctly remember watching the sand martins flitting over the surface of the ponds, as well as a really lovely visitor's centre! Wildlife is now a passion of mine (I recently completed a master's in biodiversity conservation) and I really value the benefits of the reserve for biodiversity, the local community, and for the wellbeing of those that visit - long may it continue to provide those benefits for future generations!"

- Izzy Taylor
Sue Spencer

Ensure our next generation really is onboard wanting to keep this wonderful space.
Sue Millichap

Nursery children to university students visit. Their passion for nature starts here.
Phil Carter

Its one of the best places for wildlife in the East Midlands. 500,000 visitors a year can't be wrong!
Tom Huggon

I have been with the Trust now for nearly 50 years. I was a volunteer warden at Attenborough in 1972.

Brings nature to people and people to nature.
Lucy Briggs

"If you know me you will already know I walk a lot. Most of my walks are at Attenborough Nature Reserve where I have been visiting since my childhood. I make no secret of the fact that my walks with my dog, Molly, have been instrumental in dealing and managing the stresses of single parenting and everyday life in these busy times, it's my sanctuary. Over the last 40 years I've seen the reserve develop from an unkept car park where we fed the ducks and ate ice cream to a managed site with pathways, a nature centre, cafe and event space attracting over 500,000 visitors a year. I am now walking a million steps in 3 months for Nottinghamshire Wildlife Trust because Attenborough Nature Reserve needs our help."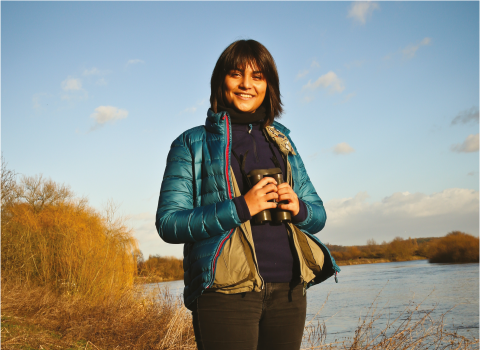 My Focus
Sorrel talks about her passion for birdwatching at the Attenborough Nature Reserve
Find out more