Agnes Kiemel
Conservation Grazing Officer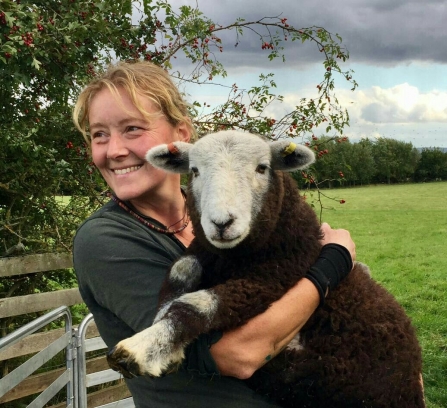 We cut hay late in the season and use the bales as winter feed for our livestock. The late cut also provides cover for small mammals such as voles, ensuring a secure food supply for birds of prey including owls. After cutting we sensitively graze using native breeds and leave buffer strips for invertebrates with the aim of creating a lightly grazed, tussocky and varied sward. By replicating the traditional techniques that were perfected over many centuries and which helped shape our wild flower meadows, we can create florally diverse areas that are literally buzzing with insect life.
Grasslands: harnessing natures own natural rhythms

Most of the UK's lowland grassland is used for intensive livestock farming with the majority cut for silage. Silage is usually cut too early and too often for traditional meadows to flower and produce seed, seriously limiting the numbers of pollinators and other beneficial insects. Such grasslands also provide little cover for small mammals with knock-on impacts on food supplies for larger mammals and birds. At Ashton's Meadow, saved by the Trust back in 1985, hay is cut late to enable wild flowers such as hay rattle and cowslip to thrive and these in turn, support a healthy insect population.

Scott Tilley
Michael Walker
Reserves Management & Monitoring Officer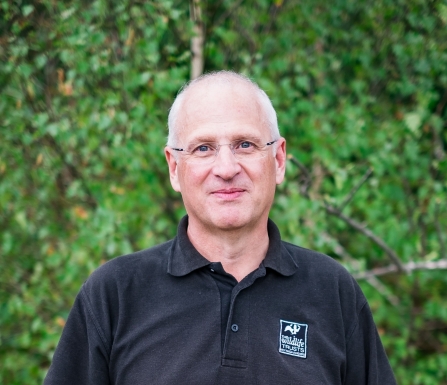 Moths are incredibly important as pollinators, yet their vital role in the food chain is often overlooked. Moths, along with their showier relatives the butterflies, represent one of the largest insect groups in Britain, thus making up a significant part of our county's biodiversity. The nocturnal species are a particularly important food for Leisler's bats and the nightjar. By maintaining a mixture of open heath, areas of gorse and stands of trees at sites such as Strawberry Hill Heath and Rainworth Heath we are providing a varied habitat for both predator and prey
Habitats for heathland species

Lowland heathland is a rare habitat, both nationally and locally. In Nottinghamshire the heathlands of Sherwood provide breeding and foraging areas for rare and iconic species including ground nesting birds such as nightjar and woodlark. Many invertebrate species have very specific habitat requirements, even down to needing a single species of food plant. For example, the caterpillar of the heath rustic moth only feeds on heather. Good numbers of other flying insects provide a significant food source for birds, bats and other small mammals.

John Smith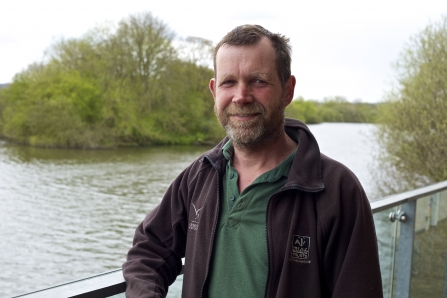 By restoring traditional coppice and leaving sanctuary areas with standing dead wood and little disturbance, we can ensure that we have real habitat diversity in our woodlands across Nottinghamshire. This benefits everything from wild flowers such as early-purple orchid and butterflies like the speckled wood to birds including blackcap as well as noctule bats. Areas of restored hazel coppice at Treswell Wood now support a thriving population of reintroduced dormice. While at Bunny Old Wood active management means that a new generation can enjoy the famous displays of bluebells
Creating a balance in our woodlands

The structure and composition of the UK's woodlands has changed over time. The introduction of non-native conifers created greater shade whilst many ancient woodlands were abandoned and became overgrown. These changes led to a loss of nesting habitat for birds and shaded out many woodland flowers. Through traditional coppice management we can create a diverse structure from the woodland floor to the high canopy - supporting a wide range of species. Through careful planting to supplement natural regeneration we can also plan for a future where the ash tree is likely to be significantly reduced due to disease.

Chris Terrell-Nield
Cath Lovatt
Volunteer Ranger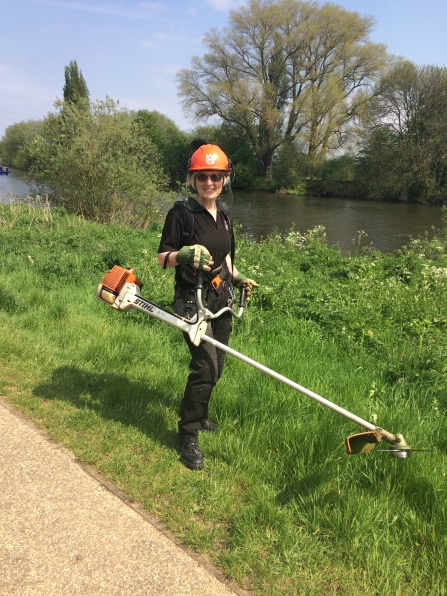 The management of our wetlands is a constant battle with encroaching scrub. Scrub is an extremely valuable habitat in its own right and important for birds including Cetti's warbler, a recent addition to several of our wetland reserves. However, too much scrub can very quickly reduce the quality of a wetland by encroaching into reedbeds and margins favoured by wading birds. We aim to create a mosaic of habitats by removing scrub, usually by hand, and by cutting large stands of reedbed on rotation. This creates a mixed age habitat suitable for a greater range of species.
Ensuring a well-stocked larder for birds

Our Idle Valley, Attenborough and Besthorpe wetland reserves are pretty busy all year around, as great habitats that provide plentiful food for breeding, migrating and wintering birds alike. Muddy waterside margins are rich with invertebrates and are a vital food source for wading birds. Bare areas of gravel provide nesting sites for little ringed plover and short grassland is used by lapwing. Reedbeds are alive with reed warbler song in the early summer. Without appropriate management these habitats can quickly become large areas of willow scrub and their value to wading birds gone.

 © John Smith