Local company reducing waste and supporting local wildlife for the fourth year running!
Riverside Bakery, part of the Addo Food Group is continuing its commitment to local wildlife, not only with a long standing relationship with Nottinghamshire Wildlife Trust but by increasing recycling and reducing waste from their factory in Nottingham.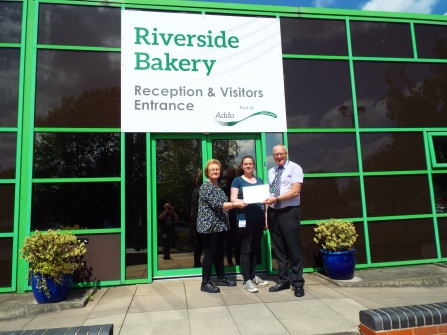 Sue Askew, HSE Support at Riverside Bakery said "We have become a throwaway society, but this is at the detriment of nature and wildlife. At Riverside Bakery we are trying to do our bit to reduce plastic and food waste by getting all 350 staff involved to do their part"
Riverside bakery is one of 6 factories in the Addo Food group across the UK who have pledged to reduce their plastic packaging waste by 100 tonnes by the end of the year. They have implemented this through working with suppliers, installing recycling bins in office areas and giving out recycled cups and water bottles to staff who pledge to do their bit for the environment. With around 350 staff at the factory in Nottingham that's a lot of disposal plastic cups used every year.
"It is hard work but we have publically pledged to make a huge reduction to our waste over the next 3 years, and to continue to lessen our environmental impact with targets up to 2030. It is a culture change for staff so we try to make sure everyone knows how to recycle and why they need to"
Riverside Bakery have been supporting Nottinghamshire Wildlife Trust for 4 years, the mutual relationship has included getting involved in conservation volunteering sessions, attendance at networking events for Nature, Health & Wellbeing and sharing of potential improvement ideas.
Geoff East, Fundraiser at Nottinghamshire Wildlife Trust said "It was great to meet the team at Riverside Bakery and learn about their current scheme 'SAVE' to reduce waste from their factories, we are keen to work with companies that are dedicated to reducing their environmental impact. We are delighted to share the news about the positive changes Riverside Bakery is making locally. By highlighting their commitment, we can hopefully encourage other companies to follow suit."
For more information about Nottinghamshire Wildlife Trust's check out our Corporate Supporter scheme online, or ask for Holly McCain on 0115 958 8242.