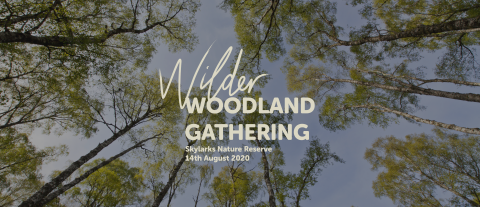 Wilder Woodland Gathering
Unfortunately this years Wilder Woodland Gathering will not be going ahead. Keep en eye on our events page to see what else is coming up.
Nottinghamshire Wildlife Trust presents a unique event packed full of extraordinary wilder experiences to discover and enjoy.
Join us as we gather under the canopy of the Skylarks woodland to celebrate, share and learn in nature with family activities, music, poetry and performance, debate and discussion, refreshments and more. A fantastic event for all ages and experiences, at our Skylarks Nature Reserve, only 2 miles from Nottingham City Centre.
Thank you for coming!
Thank you to every one who came to the Wilder Woodland Gathering last August and made it such a success! We'll be back again for 2020, updates coming soon...
In the meantime, take a look at how last year's the Wilder Woodland Gathering went below. 
Find out more
The Wilder Woodland Gathering is certainly a 'gathering'! Welcoming communities, ecologists, creative artists, environmentalists, decision makers, educators, scientists, performers, designers, producers, thinkers and speakers…
By gathering under the canopy of our woodland near Nottingham, the Wilder Woodland Gathering will offer an unforgettable and vibrant event, which aims to connect, inspire and invigorate positive action for the natural world and its recovery.
Why wilder?
"In nature, nothing exists alone"
– Rachel Carson
We believe that by working together, people can change the natural world for the better, and so by organising our gathering event we hope to connect people for a wilder future. We recognise Nottinghamshire has some fantastic projects and activities helping nature, and at our event we want to showcase this work, demonstrate and share the passion and commitment of so many projects and individuals and advocate the contribution for a #wildernotts and a #wilderfuture.
Importantly our event brings together arts and conservation, inviting different interpretations and connections to nature, offering a range of different ways to enjoy, experience, discover and share, with performances, workshops, talks, debates and conversations.
It is essential that new audiences are engaged in the campaign for nature, and so our event programme will be diverse, enriching highly creative and positively spirited!
This is why we are hosting our Wilder Woodland Gathering, and we hope you can join us!
Wilder Nottinghamshire - Our vision for the future